Intervju: Akademik prof. dr Branko Radojičić
OBRAZOVANJE PRESUDNO ZA NACIONALNI I DRŽAVNI IDENTITET
Geografija je vrlo važna kao nastavni predmet za obrazovanje i formiranje identiteta mladih. U Parlamentu treba osnovati odbor za očuvanje i podizanje nacionalnog identiteta crnogorske države. Prosvjetni radnik ne može biti onaj koji ne prihvata osnovne norme države u kojoj živi i radi. U svijetu ljudi mijenjaju državljanstvo i vjeru, ali ne i naciju. Formiranje Dukljanske akademije pomogli su najveći crnogorski naučnici - Obren Blagojević, Dragiša Ivanović, Branko Pavićević...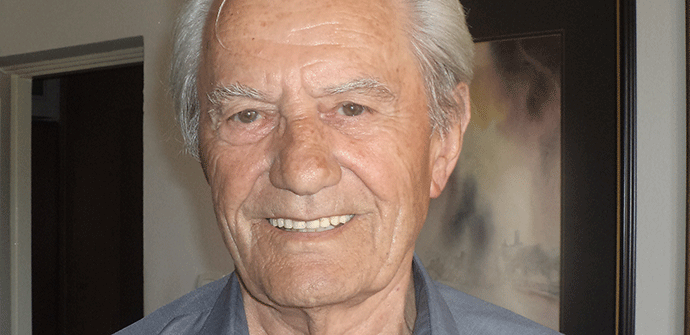 (''Crnogorski Portal'' počinje sa objavljivanjem serije autorskih intervjua Gorana Sekulovića sa najistaknutijim crnogorskim stvaraocima o trajno aktuelnim identitetskim pitanjima koji su objavljeni u listu ''Prosvjetni rad'' u periodu od 2012. do 2016. godine)
Akademik prof. dr Branko Radojičić, jedan je od najistaknutijih i najuglednijih crnogorskih prosvjetara i naučnika, dobitnik najvišeg državnog priznanja u obrazovanju "Oktoih", Ordena rada, Ordena zasluga za narod i Ordena Republike, dugogodišnji direktor Gimnazije "Stojan Cerović" i dekan Filozofskog fakulteta u Nikšiću, profesor emeritus, član komisija za odbranu magistarskih i doktorskih teza na Univerzitetima u Podgorici, Beogradu, Novom Sadu i Sarajevu, redovni član i potpredśednik DANU, počasni član srpskog Geografskog društva, autor desetina knjiga, stotine studija, naučnih i stručnih radova, enciklopedijskih odrednica, član Redakcije Enciklopedije Jugoslavije, II izdanje, u Redakciji za Crnu Goru stručni urednik za geografiju, geologiju i klimatologiju, autor alfabetara i većeg broja članaka o Crnoj Gori iz pomenutih naučnih oblasti u objavljenih šest tomova Enciklopedije Jugoslavije...

Prof. Radojičić je bio predśednik Skupštine Republičke samoupravne interesne zajednice usmjerenog obrazovanja od 1978. do 1982. g. kada se najbrže razvijalo visoko školstvo u Crnoj Gori, a istovremeno je to bio period i kada je sto odsto povećan prostor za srednje škole. Bio je i poslanik Skupštine RCG i predśednik njenog Odbora za obrazovanje. Od početka bavljenja naukom, prof. Radojičić se suprotstavlja tendencioznom stvaranju inferiornosti kod Crnogoraca i predrasudama da je geografski položaj Crne Gore nepovoljan i da smo siromašna zemlja. Ističe da povoljnu mediteransku klimu, kakvu ima veći dio Crne Gore, ima još samo oko tri odsto čovječanstva. U iz-danju DANU objavio je voluminozno trotomno djelo na preko hiljadu strana - "Geografija Crne Gore" ("Prirodna osnova", "Društvena osnova" i "Regije Crne Gore").
Prof. Radojičiću, što znači geografska nauka u svijetu, a što kod nas?
-Geografija se u svakoj civilizovanoj zemlji smatra jednom od osnovnih nauka, a posebno je veliki njen značaj kao obrazovnog predmeta u školama. Fundamentalno mjesto za formiranje identiteta u jednoj državi pripada nastavnim predmetima geografija, istorija, maternji jezik i književnost. Npr. u nastavnim planovima njemačkih srednjih škola na prvom mjestu stoji geografija. Kod nas još uvijek ne postoji adekvatan odnos prema geografskoj nauci, a ni prema geografiji kao nastavnom predmetu. Nacionalna geografija morala bi se izučavati u starijim razredima svih srednjih škola. Moje kolege geografi objavili su veći broj knjiga i naučnih radova iz ra¬znih oblasti geografije, o pojedinim regijama i naseljima Crne Gore i drugome. Sve to predstavlja važnu osnovu i za ostala naučna istraživanja Crne Gore.
Potrebna prava ocjena rada u prosvjeti
Bili ste 15 godina direktor nikšićke gimnazije u vrijeme kada je bila najbolja srednja škola u Crnoj Gori. Gimnazija je 1971. godine dobila nagradu "Oktoih", a naredne godine i Vi ste je dobili. Što je, po Vama, najošetljiviji prosvjetni problem?
-Čak je i zdravstvo primijenilo sistem ocjenjivanja rada ljekara i odgovarajućeg nagrađivanja, a u školstvu se po tom pitanju vrlo malo radi. Svaka škola mora biti mjesto kvalitetnog rada profesora i đaka. Nažalost, danas se pretvaramo u društvo u kojem će odličan đak biti onaj kojemu roditelji mogu da plaćaju nastavu van škole. Takvi nam, uglavnom, osvajaju razne nagrade, a po njima slavimo pojedine profesore i škole. To je važno za stimulisanje i drugih, ali je to daleko od prave ocjene rada svakog pojedinca i svake škole. Direktori škola, njihovi pomoćnici, čak i pedagozi, rijetko su kada na časovima profesora. S profesorima treba raditi, direktor nije samo osoba koja upravlja, već i istaknuti pedagoški radnik. Odavno je prevedena sa en-gleskog jezika knjiga "Direktor" koju treba da koriste svi direktori.
Patriotizam nastavnika i učenika
Koliki je značaj obrazovnog sistema u cjelini za nacionalni i državni identitet?
-Obrazovanje ima najznačajniju ulogu u formira¬nju nacionalnog i državnog identiteta svakog naroda, a posebno nacionalne nauke - geografija, istorija, maternji jezik i književnost. Po najnovijim rezultatima popisa stanovništva, kod školske omladine naglo raste patriotizam i ošećaj nacionalnog identiteta, što znači da rezultata u školama ima, ali oni moraju biti mnogo vidniji. Prosvjetni radnik ne može niđe u svijetu biti onaj ko ne prihvata osnovne norme države u kojoj živi i radi. Patriotizam i čovjekoljublje moraju biti prisutni kod svakoga nastavnika i učenika. U civilizovanom svijetu nikada se ružno ne priča o svojoj državi, pogotovo ne u školama. Granice između država postaju prohodne, ali svako ljubomorno njeguje patriotski ośećaj prema svojoj državi i naciji. Lijepi primjeri za ovo su odnosi u Evropskoj zajednici. Crnogorci se moraju vraćati svojim korijenima, svom biću i identitetu, a posebno svom školstvu. Zato u crnogorskoj Skupštini treba formirati odbor za očuvanje i podizanje nacionalnog i državnog identiteta Crne Gore.
"Što će Nikšiću fakultet?!"
Profesore, da li je razlog nedovoljne svijesti o državnom identitetu evidentno dosadašnje istorijsko kašnjenje u formiranju ključnih nacionalnih prosvjetnih, naučnih i kulturnih institucija?
-Svuđe kod nas prisutan je taj ośećaj kašnjenja. U prvom planu je političko opredjeljenje, što je tragično za duhovnu sferu. U oblasti kulture krenulo je dosta dobro. Temeljitije se moramo pozabaviti obnovom kulturnih znamenitosti. Ministar prosvjete danas vodi veliku i časnu borbu za razvoj obrazovanja. Ogromnu ulogu u svemu tome treba da imaju Zavod za školstvo i Zavod za udžbenike. Najviše se kasnilo zbog stalnog pritiska, u stilu - ne treba to vama. Kao dekan Filozofskog fakulteta, otišao sam u Beograd da molim jednog istaknutog Nikšićanina koji je vodio tadašnji Savezni zavod za na¬učne veze sa inostranstvom, da pošalje tri-četiri mlada čovjeka sa Fakulteta u inostranstvo na specijalizaciju. Odgovor je bio: "Što će Nikšiću fakultet?!"
Kao predśednik Skupštine SIZ-a za usmjereno obrazovanje mnogo sam se zalagao za otvaranje novih fakulteta. Trpio sam mnoge kritike, kao i svi oni koji su se za te ideje zalagali, od onih koji su tvrdili da nama nijesu potrebni fakulteti, da ih imamo u Beogradu i sl. Uvijek želim istaći da me je najsnažnije pomagao u ostvarenju tih ideja Veljko Milatović.
Profesor je obavezan da bude na fakultetu
Vidno zaostajemo po broju visokoobrazovanih kadrova u odnosu na razvijene zemlje. Sada imamo više privatnih univerziteta i samostalnih fakulteta i mogućnost da se stanje popravi.
- Danas se u Evropi planira da 40 odsto određene generacije završava visoko školstvo. Mi smo daleko od toga. Uz kvantitet, naravno, ne smije se zaboraviti kvalitet. Istinskih visokih stručnjaka nikada nije dosta. Dakle, ne treba se plašiti širenja visokog školstva, novih smjerova i fakulteta, ali se treba bojati da to loše ne utiče na kvalitet. Nastavu na fakultetima mogu da izvode profesori i asistenti koji imaju izborno zvanje za određene naučne oblasti iz kojih obavljaju nastavu. Taj princip se često ne poštuje. Prihvatili smo Bolonjsku deklaraciju, ali osnovno nijesmo shvatili: da je profesor obavezan da bude svaki dan na fakultetu, na nastavi ili u svom kabinetu, spreman da studentima svakodnevno određeno vrijeme pruži traženu pomoć. U Sloveniji je takva obaveza profesora utvrđena već više decenija ranije. Dok sam bio dekan fakulteta u Nikšiću, podigli smo novi dio zgrade od tri hiljade kvadrata. Svaki je profesor dobio kabinet. Mali je broj profesora koje studenti mogu naći u kabinetu osim u danima kada imaju nastavu ili ispite. Tako je na svim fakultetima. Kako shvatiti da Univerzitet za 30 profesora Filozofskog fakulteta u Nikšiću napravi stanove u Podgorici, a želi da sprovodi Bolonjsku deklaraciju.Tačno je i da profesori univerziteta moraju biti bolje plaćeni, ali se i oni moraju odgovornije odnositi prema studentima. Na najpoznatijim fakulteti-ma u svijetu normalnim se smatra da student ustane i slobodno analizira vrijednost časa koji je profesor održao. Dakle, ostvarenje Bolonjske deklaracije i ukupni rad na univerzitetu najviše zavisi od rada profesora.
Prije 1948. nije bilo popisa po nacionalnosti
Rekli ste mi da se često začudite kako neke podatke o svojoj zemlji ne poznaju javni djelatnici...
- Evo jednog primjera. U svim ranijim popisima tražena je samo vjerska pripadnost. Tek od popisa iz 1948. moglo se izjasniti i nacionalno, pa je u Crnoj Gori tada bilo 91% Crnogoraca. I u sljedeća četiri popisa, znači sve do 1981. godine, bilo je najviše do 3% Srba u Crnoj Gori. Međutim, mi stalno slušamo priču da neko u Crnoj Gori proćeruje Srbe. Proćerani su Crnogorci. Ja ne želim da o tome mnogo govorim, to su statistički podaci. U svijetu ljudi mijenjaju državljanstvo i vjeru, ali ne i naciju.
Crnogorci su uvijek poštovali druge nacije, ali ne smiju dozvoliti ni potcjenjivanje svoje. Drugi svojataju Miroslavljevo jevanđelje, Hroniku popa Dukljanina, Oktoih, Vojislavljeviće, Balšiće, Crnojeviće, Zmajeviće, Martinoviće, Petra I Petrovića Njegoša, Petra II Petrovića Njegoša, a naši đaci i studenti u školama i na fakultetima o njima nedovoljno uče i znaju.
O mnogim moralnim maksimama izgrađenim u životu Crnogoraca, a koje su izuzetno cijenili najveći svjetski mislioci, učenici malo saznaju u školama. Svijet se divio crnogorskom čojstvu, junaštvu, slobodarstvu, pravičnosti, velikodušnosti, skromnosti, dobročinstvu i sličnim vrlinama. Oni koji se takvim moralnim vrijednostima predaka ne mogu pohvaliti, danas kažu da to za savremeni život nije bitno, što nije istina. Crnogorci su laž smatrali najvećom moralnom degradacijom koja uništava dostojanstvo čovjeka. A danas svakodnevno slušamo laži, često i u najuglednijim ustanovama.
Građanska država
Govorite o potrebi čuvanja i osavremenjavanja crnogorskog nacionalnog identiteta (čojstva, junaštva, slobode). Kako nakon obnove suverenosti graditi duhovne vrijednosti bez kojih država nije sigurna, utemeljena i perspektivna?
- I to je dio moje struke, jer je geografija i politička nauka. Danas postaje normalno u Evropi da poslije 300 godina Škotska hoće svoju nezavisnost. Nije njoj bilo loše u Engleskoj, ali hoće nezavisnost. U Švajcarskoj70 odsto stanovništva su Njemci, ali niko od njih neće reći da je Njemac nego Švajcarac. Austrija je za vrijeme Hitlera, koji je i sam bio Austrijanac, nasilno pripojena Njemačkoj, ali se poslije rata odmah odvojila.
Nema primjera u Evropi da neka država vjekovima pokazuje toliko "bratske želje" da pokori suśednu zemlju, koliko Srbija Crnu Goru. I danas se to sistematski radi, najizrazitije preko Srpske pravoslavne crkve, a i preko drugih institucija i pojedinaca. Dobro je što je Crna Gora građanska država, ali ona ne bi postojala da nije bilo Crnogoraca. Primjer za Evropu, koji navodi A. Evans, bile su riječi kralja Nikole koje je uputio nikšićkim Turcima, prilikom oslobođenja 1877: "Ostanite sa Crnogorcima da bratski živite, jer smo braća po krvi, samo nas je vjera razdvojila i zadržite sva svoja bogatstva".
Potomci onih koji su ostali i danas su ponosni Crnogorci, bez obzira na njihovu vjersku pripadnost. Nijesam od onih koji žele da se premnogo ističe nacionalna pripadnost, ali nikada ne treba zaboraviti da je onima koji su vjekovima branili i čuvali slobodu Crne Gore uvijek bio najvažniji etički i etnički ponos da su Crnogorci.
Nema Crnogoraca i Crne Gore bez crnogorskog jezika
Izuzetno je važna i aktuelna tema identiteta sa aspekta školskog sistema. Svjedoci smo danas da pojedini politički subjekti uslovljavaju integracione evropske, civilizacijske procese, sa pitanjima jezika i slično.
- Nikada nikome nije smetalo da jezik na svom državnom prostoru nazove jezikom svoje države. Pogledajte kako se neki žilavo bore protiv toga da se ustali crnogorski jezik, a to je državni, službeni jezik. Tačno je, male su razlike između srpskog, hrvatskog, bosanskog i crnogorskog jezika - sve je to jedan jezik, mi se veoma dobro razumijemo, ali, kao u svakoj državi u svijetu, ima i posebnih jezičkih razlika, koje ne treba nikome da smetaju. Ljepota našega jezika je izuzetna. Od 1992. godine nametnuto je da se srpskohrvatski nazove srpskim jezikom. Sada to hoće da utemelje. To je, u stvari, politička borba da nestane Crna Gora. Poznati srpski lingvista Pavle Ivić je napisao da bi moralo ostaviti traga u jeziku da su ljudi koji su bježali sa Kosova dolazili u Zetsku kotlinu. Naprotiv, ovđe je jezik tako divno sačuvan, te se kao takav proširio i prema Šumadiji i drugim krajevima Srbije. Sve divne osobine Crnogoraca treba gajiti, a nema Crnogoraca i Crne Gore bez crnogorskog jezika. Država bi se mogla i morala drugačije zaštititi od onih koji žele da nestanu identitetske osobine Crnogoraca, svakako uz najveća poštovanja identitetskih odlika i drugih naroda koji žive u Crnoj Gori. Mi imamo dug prema precima koji su na ovom kamenu branili slobo¬du preko 1.300 godina. U UN je 36 zemalja koje su po površini manje od Crne Gore, a 36 po broju stanovnika. Niko nema želju da te države nestanu.
Crna Gora je mediteranska, a ne balkanska zemlja
Vaš naučni stav je da smo mediteranska, a ne balkanska zemlja, zar ne?
- Više je argumenata za moju tvrdnju da je Crna Gora mediteranska zemlja. Akademik Josip Roglić iz Zagreba, veliko ime evropske geografije, koji je bio moj profesor i kod koga sam i specijalizirao i doktorirao, primijetio je da bismo na način kako nazivamo Balkansko poluostrvo, mogli nazvati i svu Evropu poluostrvom, što bi bila besmislica. Bogatstvo i kultura su nam u svako vrijeme dolazili s mora. Kada je trebalo da pobijedimo Turke na Grahovcu, Vučjem dolu, nije nam stigla pomoć u oružju sa Istoka ni od "bratskog naroda", već od mediteranskih zemalja i Zapadne Evrope. U Boki kotorskoj živi stanovništvo koje je najvećim procentom crnogorskog porijekla i mentaliteta. Preci najznačajnijih porodica Perasta i Kotora, ako nijesu romanizovani Iliri, potiču sa prostora Crne Gore. To je u jednom radu istakao i J. Erdeljanović. Danas je najmanji procenat nezaposlenosti na Crnogorskom primorju. Čitav crnogorski prostor može biti integrisan u funkciju njegovog mediteranskog karaktera.
Srednjovjekovna Duklja je bila država Crnogoraca
Crnogorska nauka sve doskoro uglavnom se bavila periodom Petrovića, vrlo malo Balšića i Crnojevića, a skoro nimalo Vojislavljevića. Utiče li i to na pomanjkanje svijesti o nacionalnom i državnom identitetu?
- Kralj Nikola je 1910. godine poručio onima kojima je smetalo proglašenje Crne Gore kraljevinom, a njega za kralja: "Naše kraljevstvo je staro, ono potiče još od Vojislavljevića, od kraljeva Vojislava, Mihajla i Bodina". Nekima smeta taj crnogorski kontinuitet i što smo bili kraljevina, i to 140 godina prije njih. Veliki poznavalac istorije Vizantije, G. Ostrogorski (1970) kaže: "U poluzavisnim južnoslovenskim državama počeo je proces oslobađanja od vizantijske prevlasti i borba protiv nje. Prva je u tome uspjela Duklja, odnosno Zeta". Zlonamjernici zamjeraju što kažemo da je Duklja država Crnogoraca. U njoj su živjeli Sloveni, preci današnjih Crnogoraca, organizovani u jakim plemenima. Plemenski život je održao Crnu Goru. Svako pleme je bilo jedna zaokružena geo¬grafska cjelina. Na kartama s početka 16. vijeka zaokruženi su kao slobodni Crna Gora i Dubrovnik. Sve drugo je, do visoko na ševeru, bilo pod vlašću Turaka.
Uzrok nedostatku svijesti o nacionalnom identitetu nalazi se u nenaučnom tretiranju Crne Gore. Uzmimo kao primjer naša plemena. Ne uviđa se njihovo crnogorsko porijeklo i biće. Drugi nijesu imali plemenske organizacije. Za Nikšić su govorili da je to Hercegovina. Pleme Nikšići su porijeklom iz Zetske ravnice. Naselili su nikšićki kraj. U doba Turaka mijenjala se pripadnost pojedinim sandžakatima. Jedan od prvih turskih vazala na južnoslovenskim prostorima bio je Herceg Stjepan. Ni po čemu on ne može biti uzor za slobodarske ideje. Na prostoru od Banjana, Rudina, staro je crnogorsko pleme Riđani, a najveći dio današnjeg stanovništva porijeklom je sa prostora slobodarske podlovćenske Crne Gore. Pleme Drobnjaci nekada je naseljavalo polovinu Nikšićkog polja, a pleme Vasojevići je prije najezde Turaka naseljavalo prostor Zetske ravnice, između Bratonožića i Kuča. Povlačili su se pred najezdom Turaka na svoje katune. Tako je bilo i sa Pivljanima. Danas imamo i turske izvore i mogućnosti da vidimo i ne izmišljamo podatke o njihovim popisima stanovništva. Na kretanja plemena Nikšića i Vasojevića sjajno je ukazao pok. dr Žarko Šćepanović, profesor i kolega sa fakulteta, pišući o Srednjem Potarju i Polimlju. Ukazao je na seobe Srba poslije Kosovskog boja i kako se taj kraj demografski ispraznio za vrijeme seoba Arsenija III i Arsenija IV, i kako su se tamo naselili Nikšići i ostali Crnogorci.
Temelji crnogorskog identiteta
Kako gledate na ujedinjenje CANU i DANU?
- Dugo sam vrlo aktivno sarađivao u više odbora CANU, bio predstavnik Univerziteta u Odjeljenju prirodnih nauka, član Redakcije Enciklopedije Crne Gore, urednik za četiri naučne oblasti (geografija, geologija, hidrologija i klimatologija), napravio sam i alfabetar za te oblasti. No, u posebno žučnim raspravama oko Enciklopedije, vođenim tokom 1998, CANU se nije mogla pohvaliti   nastojanjima  za afirmaciju Crne Gore. Pravljene su ozbiljne greške. Suprotstavljao sam se onima koji su grlato i nemilosrdno napadali najveće kulturne stvaraoce i borce za očuvanje identiteta i afirmaciju Crne Gore. Nikada nikoga ne želim uvrijediti, ali ne mogu pretrpjeti ni neistine i uvrede koje se upućuju najistaknutijima. Zaključio sam da u takvim prilikama treba da prekinem učestvovanje u radu CANU, mada sam ostao u dobrim odnosima sa većinom akademika.
Na insistiranje najistaknutijih naučnih stvaralaca i političkih prvaka Crne Gore, prihvatio sam se izbora za redovnog člana i potpredśednika DANU. Nastojao sam da stvaralačkim radom doprinesem afirmaciji te institucije. Sadašnja težnja da se spoje akademije je dobra, ali to nije trebalo raditi samo zakonom. Ne mogu da prihvatim da uistinu vrijedna i poštovana ministarka za nauku Sanja Vlahović više puta razgovara u Crnogorskoj akademiji o tome, a da samo jedan kratki razgovor obavi sa nama, i to sa manjim brojem članova DANU. Kao da je jedino bilo važno hoćemo li mi postati članovi CANU. Shvatio sam da to ne smije biti jedini cilj.
Članovi Dukljanske akademije su svojim dugogodišnjim naučnim radom i stvaralaštvom u oblasti kulture, objavljenim u brojnim knjigama i drugim rado¬vima, značajno doprinijeli očuvanju značajnih temelja identiteta i opštem razvoju Crne Gore. Zaslužili su da se na śednici Skupštine Crne Gore i nešto lijepo kaže o njima, a ne samo da čujemo rečenicu da su se borili za nezavisnost Crne Gore. Za nezavisnost se na referendu¬mu izjasnilo više od 55,6 % građana. Mojih deset knjiga, dvanaest studija, preko sto drugih naučnih radova, više od trista enciklopedijskih i drugih stručnih odrednica - doprinos su crnogorskom nacionalnom i državnom identitetu. Slična je situaci-ja i drugih članova DANU.
I sada je, kao, dovoljno da se meni i kolegama kaže da smo bili za nezavisnost. Vrlo su bili grlati predstavnici CANU, opozicioni poslanici i razni drugi "prijatelji nezavisne Crne Gore" koji su napadali DANU, a i državnici su se ustručavali da kažu što dobro o DANU. Dukljansku akademiju podržala su najveća imena crnogorske nauke - Obren Blagojević, Dragiša Ivanović, Branko Pavićević i drugi, a bila je jedno vrijeme i finansijski pomagana, i od najviših ličnosti države Crne Gore. Zašto se o spajanju nije prethodno održao sastanak vodećih ličnosti iz tih akademija i predstavnika države? Zašto se o tome i razvoju istinske nauke nije temeljitije govorilo u Parlamentu? Kada bi se radilo o mnogo beznačajnijim pitanjima, danima bi se vodila rasprava, a u priči o budućnosti najvažnije naučne institucije najviše su se čule riječi potcjenjivanja DANU.
Kao čovjek koji i dalje želi mirno da stvara, ne ośećam potrebu da ponovo slušam teške riječi upućene, često najvećim ličnostima koji su udarali temelje crnogorskoj kulturi i državi, kao što je to rađeno devedesetih godina prošloga stoljeća, kada sam prekinuo saradnju sa CANU. Nažalost, još uvijek se dosta takvih riječi čuje u CANU i u javnosti. U ovoj državi treba se otvorenije suprotstaviti onome što je negativno - riječju, djelom i radom. Sav moj rad, sve moje knjige i drugi radovi su takvi. Uz veliku podršku mojim kolegama, članovima DANU, i uz želju da se spajanje akademija dalje odvija bez konflikata, ja sam riješio da ne predam dokumenta za prijem u CANU i da ne budem njen član.
Formirati Leksikografski zavod
Kakve su šanse da se na valjan način napiše Enciklopedija Crne Gore?
- Dosta je urađeno na izradi alfabetara i određe¬nih tekstova, na čemu sam i sam dosta radio, ali je prije početka tako složenog posla potrebno formirati Leksikografski zavod, ili sličnu instituciju. No, kod ovakvog stanja u crnogorskoj nauci neće biti lako završiti Enciklopediju. Za to je potrebno angažovati mnoge radne ljude, a ne naučnike paradere, kakvih ima znatan broj. S posebnim poštovanjem pominjem akademika Mijata Šukovića. On i akademik Dragan Karadžić su bili predstavnici CANU, a ja i akademik Sreten Perović DANU u Komisiji koju je formirao raniji ministar prof. dr Sreten Škuletić, a predšednik je bio pomoćnik ministra Radovan Damjanović. Dogovorili smo se da se formira posebna institucija Leksikografski zavod i pokrene izrada Enciklopedije, kao i drugih značajnih izdanja. Kao i za mnoga pitanja nauke u Crnoj Gori, nije se postiglo mišljenje o ljudima koji to treba da vode. Izgleda da bi opet to nama "najbolje" uradili drugi. Śetio sam se riječi Miroslava Krleže, kada je pokretan rad na II izdanju Enciklopedije Jugoslavije, koji nam je kazao: "Kada je rađeno na prvom izdanju, vi ste Crnogorci Srbima dali da obrađuju Crnu Goru. Tako se dogodilo da mnogi crnogorski junaci, vojvode i serdari nijesu ušli u Enciklopediju, a svaki srpski kaplar je unesen. Uradite sve da se to u drugom izdanju ispravi". Uvjeren sam da će se i u budućoj CANU o mnogim pitanjima Enciklopedije teško postići saglasnost, ali je Zakon predvidio da će to biti važan zadatak Akademije. Volio bih da se u tome uspije.
Naučna kritika
Crna Gora u budućnosti?
- Potrebno je temeljitije misliti i raditi o pravcima razvoja države, o novim radnim mjestima. Bolno pitanje za Crnu Goru jeste nizak natalitet. Prosto je tragičan podatak da je više onih koji imaju između pedeset i pedeset pet godina od onih koji imaju do pet godina života. Treba preduzimati razne mjere da se ta situacija mijenja.
No, i pored svih teškoća, možemo se radovati dokle smo kao država stigli. Zamislite kakvo bi danas stanje bilo u Crnoj Gori da se ostvarila ideja da ona postane 27. pokrajina ili region Srbije. Žalosno je kako se ophodimo prema ličnostima koje su ovu zemlju dovele do nezavisnosti i međunarodne afirmacije. No, takvu sudbinu je imao i Njegoš, knjaz Danilo, kralj Nikola i drugi naši velikani. U crnogorskoj nauci potrebno je razvijati naučnu kritiku o objavljenim knjigama. Kada sam govorio na promociji dvotomne "Istorije Crne Gore", velikog crnogorskog naučnika i čovjeka akademika Branka Pavićevića, rekao sam da nije trebalo da te dvije značajne knjige idu kao nastavak četiri toma nekadašnje Istorije Crne Gore koja je negirala crnogorsku naciju i istoriju. Takve i slične stvari se ne bi smjele dešavati.
NAUČNA  ISTINA
U Drugom balkanskom ratu Crnogorci su ratovali za Srbiju, a u Prvom svjetskom ratu Crna Gora je prepustila komandu svoje vojske Srbima, i na svim frontovima ginuli su Crnogorci za Srbiju i srpstvo. O onome što je uslijedilo malo znaju mlade generacije. Ko pošteno misli, ne može to opravdati. Nijesam srio Crnogorca koji ne voli Srbe. Ali, naš etnos, kultura i običaji nigdje drugo nijesu brže nestajali kao kod onih Crnogoraca koji su se odselili u Srbiju. Sve su to naučne istine.
RUŽNI VIDE SAMO RUŽNO OKO SEBE
Naši su preci govorili - ružni vide samo ružno oko sebe, a lopovi najviše galame i viču drž'te lopova. Danas su najviše grlati oni, pa i određene vjerske institucije i određeni političari koji žive u Crnoj Gori, a čiji je jedini cilj da učine sve kako bi bilo što manje Crnogoraca. To je neprimjereno za civilizovani svijet. Malo je onih, pa i na najodgovornijim mjestima u državi, koji na ovakvo ponašanje adekvatno reaguju. Sve su to smišljeni napadi na državu, napadi najpogubnijeg karaktera.
Boravio sam i izučavao stanje u mnogim državama i danas mogu reći da su Crna Gora i njeni građani pri vrhu ljestvice po svim moralnim odlikama savremenog čovječanstva. Pa zar nam to ne kažu i svi pośetioci ove naše lijepe zemlje i sve diplomate koji borave u Crnoj Gori.
VELIKOSRPSKI KONCEPT
U posljednje dvije decenije obnavlja se izdavanje djela koja su nastala na konceptu nestajanja svakog identiteta crnogorske nacije i države. Veliku nepravdu prema Crnoj Gori i Crnogorcima uradila je Cvijićeva antropogeografska škola. Jovan Cvijić je bio istaknuti geograf Srbije, utemeljivač više nauka. Nastojao je da od Srba, Hrvata, Slovenaca, Crnogoraca i Makedonaca stvori jedan narod, naravno na pijemontskoj ulozi srpstva. Vidio je on i posebnosti svih, ali je vjerovao da će jakom srpskom državom - Kraljevinom Jugoslavijom doći do monolitnosti Južnih Slovena.
Mnogi su geografi i etnografi po uputstvima Jovana Cvijića radili studije o Crnoj Gori, pojedinim plemenima i sl. One imaju velike vrijednosti, ali su rađene po konceptu velikosrpstva, posebno one koje su pisane poslije 1918. Kakve je sve komplimente Cvijić davao Dinarcima i posebno Crnogorcima, da bi na kraju završio onom grubom konstatacijom o njima, u ''Balkanskom poluostrvu'', koja glasi: "Posle Balkanskih ratova, Crnogorci su uvideli da ratničke osobine i lično junaštvo u današnje vreme nisu dovoljne i da treba biti organizovan i dobro snabdeven. Slavna nacionalna misija Crne Gore je završena. I ona može imati svoju ulogu samo kao sastavni deo jedne velike narodne celine. Ona je razumela ovu potrebu i zato je tražila ujedinjenje sa Srbijom". Ovome ne treba komentar, ako se zna šta se poslije dogodilo sa Crnogorcima.
NEMANJA  JE PORUŠIO  GRADOVE U  ZETI-DUKLJI
- Falsifikuje se i dalje u nauci i niko na to ne reaguje. Npr. u Žitiju koji nosi njegovo ime ne spominje se da je Sveti Sava boravio u Crnoj Gori, a ni umni Petrovići ga ne pominju, ali između dva svjetska rata i u novije vrijeme na svakom koraku su nastala izmišljena znamenja o njegovom boravku na tim mjestima i šta sve ne.
O pljevaljskoj opštini u knjizi S. Miloševića sve je u duhu velikosrpstva i svi su stanovnici Srbi. Knjiga je objavljena u Beogradu, đe je, po običaju, i doktorat zarađen. U drugoj knjizi, pak, autor M. Joknić, poslije višegodišnjeg istraživanja, navodi 890 najbrojnijih bratstava pljevaljske opštine i zaključuje da su preci 650 njih doselili iz drugih krajeva Crne Gore, i to u doba vladavine Turaka i poslije oslobođenja.
Krleža je u predgovoru II izdanja Enciklopedije Jugoslavije Srbima poručio da ne može shvatiti zašto se odriču značaja svoje države XV vijeka, a veličaju onu iz XII i XIV vijeka. Nemanja je sve osvojene krajeve opustošio. O tome piše i Nemanjin sin Stefan. To je bio primjer brutalnog rušenja u svijetu. Istu sudbinu su doživjeli gradovi u današnjoj Istočnoj Srbiji, Zeti-Duklji i Crnogorskom primorju.