Goran Sekulović: Crnogorske priče
Ličnosti: Rajko Sekulović (1918-2009): Čovjek koji je htio da omekša dvadeseti vijek
Serdar u partiji, narodni učitelj, komunista uz kojega su oficiri zakleti ''kralju i otadžbini'' htjeli da se biju sa okupatorom, saborac Tadije Čemerkića, demokratski komesar, pošteni informbirovac, sabesjednik Mihaila Lalića, studentski i upravnik i drug, kreator prvog komunističkog spomenika koji je baštinio i poginule rodoljube iz prethodnih ratova, kretao se u jednom od najsurovijih vjekova u istoriji kao da gazi po pamuku
Istorija mu je dodijelila da živi u dvadesetom vijeku na Balkanu, a on je razmišljao i ponašao se kao da je izvan vremena i prostora, kao da mu je pripalo da bude slobodan čovjek drevne, antičke demokratije polisa ili dio neke buduće, daleke, utopijske, univerzalno humane i solidarne ljudske zajednice. Tako je i zamišljao komunizam, kao konačno ostvarenje najplemenitijih težnji najumnijih i najdalekovidijih. Otvoreno je razgovarao ne samo sa saborcima, već i političkim protivnicima, pa čak i ratnim neprijateljima. Bio je čovjek dijaloga, demokratije, tolerancije, javnosti, suživota sa drugima bez obzira na njihovu ideološku orijentaciju u vremenu koje svemu tome nije bilo nimalo naklonjeno. Naprotiv, zbog toga se vrlo (o)lako (gotovo za ništa!) gubila glava. On je svoju sačuvao, vrlo često ni ne znajući kako. Valjda je sudbina tako htjela. On kaže: ''Spasio me je đedov hljeb.'' Ili, možda zahvaljujući upravo onome što je naizgled bio njegov hendikep s obzirom da je živio u jednom od najsurovijih i čovjekovom dostojanstvu, dignitetu i integritetu najnenaklonjenijih vjekova. Uvijek je bio otvoren za ljudsko dobro i istinu. U svim, pa i u najnepovoljnijim, situacijama vodila ga je misao da svagda i svuda postoji čovjek, ljudsko biće slično njemu bez obzira na moguće i stvarne razlike, s kojim se može i mora razgovarati ako se želi ostati čovjek a ne postati zvijer u ljudskom obličju.
Rajko Sekulović nikada nije ušao sa dnevnikom u učionicu, ali je zbog bliskosti sa masama prozvan narodnim učiteljem. Drugovao je sa Budom Tomovićem, Mirkom Vešovićem, Borom Ćetkovićem, Miloradom Musom Burzanom, Ljubicom Popović, Raškom Božovićem, Đinom Vrbicom, Savom Pejanovićem, Ljubom Ćupićem i bratom mu Ratkom (kasnije diplomatom)…Od policijskog progona zbog demonstriranja jednom ga je spaslo samo to što je profesor crtanja Ivo Novaković (njegovu bistu na sutomorskoj rivi početkom devedesetih neko je bio srušio, ali je ponovo vraćena) i sam bio simpatizer komunista pa nije zapisivao odsutne sa časa, već je stojeći blizu prozora pomno pratio i slušao odjeke protesta sa podgoričkih ulica. U jesen 1936. godine, fotografisao se sa grupom skojevaca podgoričke gimnazije u znak solidarnosti sa republikanskom vojskom Španskog građanskog rata, zbog čega su njega i drugove – kada su žandarmi uhapsili fotografa i razvili zaplijenjeni film – prosvjetne vlasti isključile iz škole.
Još kao mlad komunista došao je u sukob sa ''zvaničnom'', čvrstorukaškom, pravovjernom linijom. Primijetio je da partijski sekretar čuvene Studentske menze Beogradskog univerziteta, pričajući o određenoj temi, zna da pomalo i ''zaobiđe'' istinu. Pošto mu je to bio stric, a on ga je i primio u partiju, odlučio se da mu svoju primjedbu kaže u četiri oka, da ga ne bi doveo u nezgodnu situaciju pred drugovima. Ovaj mu je resko odgovorio: ''Znaš li ti da se istina ne smije uvijek kazati?'' Grom iz vedra neba! Zar i komunisti, koji se bore za istinu, pravdu i slobodu, da ne smiju uvijek reći istinu?! ''Ni mi komunisti?'', upitao je. ''Ni mi komunisti!'', odgovorio je. Poslije Rajkovih dodatnih revolucionarnih argumentacija kojima ga je htio demantovati, stari komunistički vuk, vrlo blizak saradnik Aleksandra Rankovića, odbrusio mu je: ''Nikad od tebe komuniste!'' Svejedno, nikada nije mogao da shvati da ''i komunisti ponekad ne smiju reći istinu''! I pošto nije mogao da shvati, tako se i ponašao. Istina i samo istina!
Ova načela, predusretljivost, ugled đeda Raka Milunova (''najboljeg Bratonožića suve kape'' – bez glavarskog grba), dobro imovno stanje i porodično i bratstveničko porijeklo učinili su da na Rajka drugačije gledaju bivši oficiri. Vjerovali su mu. U ustanku htjeli su s komunistima ako on bude komesar. Jedan je tvrdio da će prvo raskrstiti sa partizanima, a da će se onda obračunati sa Italijanima. Rajko mu je rekao da će četnici postati sluge Italijana i Njemaca i izdati domovinu. ''U tom slučaju ću se ubiti'', čuo je sagovornika koji nije bio zločinac, ali je bio u zatvoru. Viši kraljevski oficir i engleski obavještajac koji je odstupio rekao je na početku rata da bi se četnici sporazumjeli sa partizanima ako bi svi komunisti bili kao Rajko. Četničkom oficiru koji ga je s dva druga puštio iz zatvora rekao je da je to greška, jer su oni komunisti, a da nekomuniste oslobodi. Oficir je rekao da je naredbu pročitao i da je na njima da li će otići ili ne, dodavši da će vređeti zemlji ako pobijedi demokratija, a ako pobijedi komunizam – ''neka te đavo nosi''.
Po zadatku partije išao je na četničke zborove da bi ih razbijao i bio u toku sa planovima. Javno je uglednom rođaku i četničkom oficiru rekao da laže. Poznatom četničkom komandantu na vijest o smrti komuniste, rodoljuba, komite i profesora u podgoričkoj gimnaziji Marka Biljurića, javno saopštava da mu je upravo on organizovao ubistvo, a da mu je sjutradan došao na sahranu. Godine 1943 u Kučima Miljan Radonjić, predratni političar i narodni poslanik (smatran obavještajcem ''Intelidžens servisa''), saopštava mu da Pavle Đurišić smatra da će istorija priznati zasluge partizanima u borbi protiv okupatora i da bi se morali dogovoriti o daljnjim akcijama. Četnicima je govorio ''brk u brk''. No, štitio je njihove porodice, stare i djecu od osveta, šikaniranja ili otimačine (vraćao im stoku). Zato su ga sumnjičili neki ''crno-bijelim'' slikama skloni komunisti. Spasio je sina ženi čiji je muž bio u Podgorici, davši joj propusnicu do italijanske bolnice, a koji je postao ugledan stručnjak, državni funkcioner i direktor banke.
Poslije rata nije dugo htio da prišije oficirske epolete i da se stručno usavršava, jer je htio da se vrati u Crnu Goru i bude učitelj u rodnom selu. Zbog ovog manjka ambicioznosti ''nagrađen'' je podozrivošću. Kao generalštabni major JNA odlazi da posjeti u niškom zatvoru svog ratnog druga, rođaka, oficira koji je uhapšen kao ''informbirovac'', u vremenu kada su ''informbirovci'' tabu-tema, ali mu to nije dopušteno, no, pošto je od posljedica robijanja u Sremskoj Mitrovici umro u zatvorskoj bolnici u Zagrebu u kojoj je bio prebačen pred smrt, posjećuje njegov grob na zagrebačkom groblju Mirogoj.
Po izlasku iz zatvora vraćena su mu ratna odlikovanja. Postao je vaspitač u učeničkom domu. Ukazom predsjednika Rusije odlikovan je medaljama povodom 50 i 60 godina od pobjede u velikom otadžbinskom ratu 1941-1945. Uz Blaža Jovanovića, govorio je, kao predsjednik Odbora za izgradnju, na otvaranju Spomenika palim borcima iz balkanskih i Prvog i Drugog Svjetskog rata u Brskutu. Bio je to prvi komunistički spomenik koji je baštinio i poginule rodoljube iz prethodnih ratova. Kao ''učitelj, predratni komunista, nosilac spomenice i golootočanin'' (iz Domske monografije) 1965. g. je izabran za prvog upravnika Doma učenika i studenata u Titogradu s kojima je bio kao drug. Rado mu se javljaju i podsjećaju ga na zajedničke dane. Bio je na svakoj proslavi rođendana, položenog ispita, godine ili srednjoškolske i fakultetske diplome. I danas kad je skoro u desetu deceniju života, direktor Musa Jovanović i zaposleni u Domu ne zaboravljaju čovjeka koji je pokušao da omekša dvadeseti vijek.    
''Ovaj put te ni đed ne može upisati''
Kad su ga prvi put isključili iz podgoričke gimnazije zbog revolucionarnog rada, Rajko se upisao u kolašinsku gimnaziju uz pomoć svog đeda Raka Milunova koji je poznavao njenog direktora. Kada je isljučen i po drugi put pošao je za Berane da se upiše u tamošnju gimnaziju. Čekalo ga je neprijatno iznenađenje. Tamo je, naime, bio direktor čovjek koji je nekada direktorovao kolašinskom gimnazijom. Samo mu je rekao:  ''Ovaj put te ni đed ne može upisati''!
Kada je Rajko uhapšen od strane četnika, njegov đed Rako je pošao kod komandanta, nekada uglednog oficira, pukovnika Zarije Vuksanovića, koji je bio drug iz klase njegovog starijeg sina, a Rajkovog strica Vuksana, oficira crnogorske vojske kralja Nikole, poginulog 1913. na Bardanjoltu kraj Skadra. Tada je Rako bio ranjen. Njegovu molbu da mu oslobodi jedinog muškog potomka, Vuksanović je prihvatio uz riječi: ''Moramo puštiti ovog Rakovog unuka pa da je po' Crne Gore zapalio.''
Neda Biljurić bacila u vatru Sekulovićevo pismo Blažu Jovanoviću
Kao ilegalac Rajko je napisao pismo Blažu Jovanoviću koji je tada bio u Piperima. Pismo je Blažu trebala da preda Neda Biljurić, sestra Marka Biljurića, i sama poznata i neustrašiva revolucionarka. Međutim, Nedu opkoljavaju u jednoj bratonoškoj kući četnici. Kada je bilo jasno da će biti uhvaćena, pismo baca u vatru na ognjištu. Četnici su vidjeli da je neko pismo uništeno, ali Neda nije priznala ni ko je pismo napisao ni kome je bilo upućeno. Četnici je ubijaju tokom sprovođenja za kolašinski zatvor i tijelo bacaju u Taru. Njeni posmrtni ostaci nijesu nikada pronađeni. Mihailo Lalić ju je nazvao u jednom svom romanu crnogorskom Dolores.
Drugovanje sa Ljubišom Milačićem, alijas Tadijom Čemerkićem
Ljubiša Milačić, alijas Tadija Čemerkić, čuveni literarni lik Mihaila Lalića, koji je prenesen i na filmsko platno, dio svog partizanovanja proveo je i sa Rajkom. Jednom prilikom, kada su bili sami, opkolila ih je grupa četnika. Međutim, Ljubiša je uspio da – glasnim ''komandovanjem'' i ''naredbama'' nepostojećoj partizanskoj vojsci – stvori paniku kod četnika koji su pomislili da je partizana više nego njih pa su se predali. Međutim, poslije rata, Ljubiša je za ''Narodnu armiju'' izjavio da je četnika umjesto osam bilo trideset. Kada ga je Rajko ukorio zbog toga, on je odgovorio: ''Ajde, bogati, vazda tjeraš pravdu, misliš li da je sve ovo drugo istina što se danas piše o ratu?!''
Doživotna zahvalnost staroj Muslimanki
Jednom je Rajko u maršu zaostao negdje u Sandžaku. Nije znao da su se u selu ka kome se zaputio i gdje je prethodno bila partizanska komanda u međuvremenu smjestili Njemci. Samo je trebalo nekoliko desetina metara pa da im izađe na čistinu. Sva usplahirena i preplašena naišla je stara Muslimanka i upitala ga kuda ide. ''Kod partizana.'' ''Kakvi crni partizani, tu ih više nema, sad su tamo Njemci, bježi odmah!'' Spasila ga je sigurne smrti.
Zbog grombi-kaputa Njemci ga pošteđeli
Jednom oko Bijeljine, drugovi koji su išli pored Rajka iznenada bi padali kao gromom pogođeni! To se dogodilo sa nekolicinom boraca i samo se mogla konstatovati smrt, iako se pucanj uopšte nije čuo. Nikome nije bilo jasno šta se događa. Komandant brigade je objasnio da Njemci koriste ''snajperke'' sa prigušivačem, a da je Rajka spasio grombi-kaput koji je nosio preko oficirske uniforme. Njemci su zaključili da je u pitanju civil koga partizani vode sa sobom i zbog toga su ga pošteđeli.
Demokratski komesar
Kao politički komesar od boraca prozvan je "demokratskim komesarom", jer je uveo u praksu jedno sanduče u kojemu je svaki borac, anonimno i zaštićeno, mogao da ubaci bilo kakvo pitanje, predlog, kritiku ili sugestiju. Na ovo se odlučio, jer je primijetio da mnogi borci na javnim konferencijama teško otvaraju srca. To njegovo "demokratsko sanduče" mnogi shvatiše kao neku vrstu "političkog višestranačja", budući da je bilo ne rijetko i neprijatnih i "provokativnih" pitanja, kao i oštrih kritika na račun pojedinih rukovodilaca. Više komande su ocijenile da sanduče ima i dobrih i loših strana, ali da ga treba ukinuti.
Spasio ga od samoubistva
U aprilu 1945. g. na Brezovom polju kraj Brčkog u borbi sa ustašama, četnicima i Njemcima koji su zajedno odstupali prema zapadu poginulo je pola vojnika bataljona u kojem je Rajko bio komesar. Jedinica je bila potpuno razbijena. Kada su borbe utihnule, oko desetak članova štaba i pratioca našlo se u obruču nekoliko stotina ustaša.U strahu da ne bude uhvaćen, Rajko je bio riješio da se ubije. Iz ruke pištolj mu je bacio na zemlju Božo Hinić, zamjenik komandanta brigade. Rekao mu je: ''Stani! Možda nas neće vidjeti. A ako nas primijete, pucaćemo i svi poginuti.'' Desilo se čudo i ustaše su mirno prošle cestom. Inače, u prvi mah čulo se da je bataljon sav izginuo, a štab poubijao.
Svadbeni ručak sa zlatnim escajgom iz vile Milana Stojadinovića
Rajko i oficir Vojo Dobrković oženili su se u avgustu 1945. g. Svadba je bila na Bledskom jezeru. Sve je vrvilo od Crnogoraca i Rusa! Uz sovjetske oficire- instruktore, bili su tu i oficiri iz 17. Istočno-bosanske divizije na čelu sa Blažom Jankovićem i četvrte Armije čiji je komandant bio Peko Dapčević. Stana Tomašević je u ime Crnogoraca poželjela mladencima srećan brak. Tu je bio i Vukašin Vule Mićunović. Escajg na ručku je bio iz obližnje vile Milana Stojadinovića, omraženog međuratnog političara, iz JRZ-e, stranke bliske fašističkoj ideologiji. Rajko nije mogao ni slutiti prije rata kada je demonstrirao prilikom posjete Stojadinovića Crnoj Gori, da će vrlo brzo, za nekoliko godina, jesti na sopstvenoj svadbi upravo zlatnim escajgom iz vile Milana Stojadinovića koja je, inače, bila sva u crnom - i sobe, i tapete, i drvenarija, prozori, vrata, zavjese, tapiserije, slike, umjetnički predmeti, cjelokupan namještaj. Crna je bila boja fašista i Stojadinović ju je prosto obožavao. Tako se i oblačio, kupovao crna odijela najpoznatijih svjetskih proizvođača, sa obaveznim velikim crnim šeširom.
Prekršio naredbu Vrhovnog komandanta
U Radovljici u aprilu 1946. g. Rajko je kao vozač imao saobraćajni udes u kojem je poginuo njegov najbolji drug, kapetan i predratni pravnik kome je trebao biti kum na vjenčanju za nekoliko dana. Sjeća se: ''Dežurni oficir u vojnom pritvoru rekao je da mi uzmu pištolj. Kao da mi je čitao misli, u tom trenutku sam bio pod strahovitim pritiskom, osjećao sam se apsolutnim krivcem.'' Kažnjen je odlukom armijskog suda osam mjeseci zatvora zbog učinjenog prekršaja - kršenje naredbe Vrhovnog komandanta kojom je bila zabranjena vožnja za svakoga ko nema položeni vozački ispit. Naredba je donesena zbog masovnih pogibija u ''saobraćajkama''. Nije osuđen preko godinu dana, jer se u tom slučaju oduzimao oficirski čin.
''Rodila je punčku''
Kada je Rajkova žena trebala da rodi prvo dijete u bolnici u Ljubljani u junu 1946. g. njegova majka je pitala sestre da li joj se porodila snaha? "Rodila je punčku" (što na slovenačkom znači djevojčica), rekle su sestre. Ne znajući šta je "punčka" prepala se, jer joj se učinilo da su rekli kučka: "Je li dijete?!" "Jeste, mama - curica". I pored zabrane ušla je u porodiljsku sobu. Sestre su pojurile za njom da je spriječe. Upravnik bolnice je izašao da vidi kakva je to buka i kada je shvatio o čemu se radi rekao: "Pustite Černogorku, neka vidi unuku." "Poznala sam je da je od nas i da je naša među dvadesetoro đece", rekla je i htjela da joj crveni konac stavi oko ruku, da je zabilježi. Sestre to nijesu dale, jer je imala bolnički znak. Opet je upravnik presudio: "Neka i ona stavi to svoje.'' Djevojčica se ubrzo razboljela i umrla. Sahranjena je na ljubljanskom groblju. Ljekari su se dugo borili za njen život i iznosili je kao primjer studentima medicine kako se krhki dječji organizam može boriti sa teškom bolešću ''zahvaljući jakim genima, jer su joj i otac i majka Černogorci''.
                                                    (Foto: Andrija Kasom i lična arhiva R. Sekulovića)
Nikada nije naučio da preda raport
Rajko nije volio oficirsku i vojničku strogoću. Nikada nije naučio da preda raport, pa to niko od njega nije ni tražio. Kada bi on bio dežurni u Generalštabu, pretpostavljeni oficiri još dok bi se približavali samo bi odmahnuli rukom da bi mu stavili do znanja da se ne trudi i ne muči oko raporta!
Peko Dapčević rasturio crnogorski sjednik
U Generalštabu u restoranu okupljala se grupa Crnogoraca-oficira. Bila im je postala navika da pauzu za doručak produže sve do – ručka! Tu se menzilo, pilo, čašćavalo. General Peko Dapčević koji se hranio u restoranu kad god bi došao sretao je jedna te ista lica! Uskoro im je prišao i zamjerio na takvom ponašanju. Bio je to kraj crnogorskog sjednika!
Sreten Žujović i korejski rat
Na sastanku u Generalštabu povodom slučaja Sretena Žujovića, Rajko je primijetio da nije u redu reći da je Žujović oduvijek, maltene od rođenja, bio izdajnik i neprijatelj. Pojasnio je: ako je sada izdao treba za to da odgovara, ali ne treba zbog toga govoriti da je bio izdajnik i onda kada to objektivno nije bio, prije, u toku i poslije rata. U protivnom, to šteti najviše partiji i državi, jer kakva smo mi vlast i partija kada smo toliko vremena u najužem rukovodstvu imali takvog i tolikog izdajnika?! Čak su mu glavni rukovodioci dali i za pravo, mada se o tome nije mnogo diskutovalo. Ali, to se negdje zapisalo. Dobio je prvu "recku". Bio je to njegov prvi ''informbirovski'' tzv. ''verbalni delikt''. Drugi "verbalni delikt": javno je čitajući novine pozdravio uspjeh kineske vojske protiv amerikanaca u korejskom ratu. Rekao je: "Konačno! To smo i čekali. Gdje im je bila do sada komunistička solidarnost?!" Iako je na vojnom sudu od strane sudije rečeno da je ova iskrena "izjava" njegova lična stvar, i ona je odigrala ulogu u zaokruživanju  Rajkovog "izdajničkog" dosijea.
Dabogda se razgubao taj Staljin!
U Bileći Rajku je bio isljednik njegov imenjak, oficir KOS-a Miljuš iz Like. Došavši prvi put u posjetu majka ga je upitala: ''Rajko, šta ovo bi? Nemasmo bez tebe nikoga. Uvijek si radio za partiju. Nadasmo se da ćemo sad počinuti a nađe nas jad najveći.'' ''Htio je da dovede Staljina u Crnu Goru,'' rekao je isljednik. ''Koga?'' ''Staljina!'' ''Dabogda se razgubao taj Staljin đe mi iskopa kuću i prije rata, i u ratu i sad. Zemlja mu kosti ne primala''!, rekla je Rajkova majka. ''Zašto?'', pitao je isljednik. "Kako zašto? Prije rata smo se za njega mučili, školovali ga, kao komunista je zatvaran, proganjan, samo smo za njega živjeli, u ratu sam prevrtala mrtve tragajući za njim, osta jedva živ, i sada kada smo trebali u miru da živimo i počinemo, zbog njega svi nastradasmo i poginusmo!''
''Pošten čovjek, ali je volio Ruse''
Isljednik na Golom otoku je Rajka okarakterisao kao ''dobrog čovjeka, ali izdajnika'', na što je podoficir-daktilograf upitao: ''Može li izdajnik biti pošten?'' ''Može, ovo je tipičan primjer, pošten je čovjek, ali je volio Ruse. Držaću ga do zadnjeg časa koliko je osuđen, ali neću dati da ga maltretiraju.''! To je bilo zaista veliko olakšanje. Rajkova istinoljubivost i iskrenost i ovog puta ga je spasla najgoreg.
Zavodnički podvizi Vlada Dapčevića
Sa Vladom Dapčevićem, čuvenim komunistom i informbirovcem, poznavao se i prije Golog otoka, još sa Cetinja. Vlado je bio poznat kao veliki zavodnik. Zbog toga su se ne rijetko dešavale i neobične, gotovo komične situacije. Na primjer, šetajući ulicama Beograda, da bi došao do svojih dragana znao bi iznenada da se ubaci kroz prozore nekih prizemnih kuća i više puta, dobacujući drugovima da ga samo malo pričekaju, jer – ''evo mene vrlo brzo''! Tako je i bivalo.
Prvi kritičar Đilasa ili ''izdajnik'' o ''izdajniku''
Na Golom otoku logoraši su pomno izučavali spise vodećih jugoslovenskih komunista. Naročito se to odnosi na Milovana Đilasa i njegove tekstove iz ''Borbe''. Učili su ih naizust kao Sveto pismo. Jedino je Vlado Dapčević tvrdio da predstavljaju – izdaju. Zbog toga je imao velikih problema i od zatvorske uprave i od zatvorenika. Na taj način je dodatno učvršćivao svoj ''imidž'' nepopravljive bande. Kada su Đilasovi tekstovi zvanično odbačeni i proglašeni kao neprijateljsko ideološko štivo, isljednik je upitao Dapčevića da li je sada zadovoljan. Vlado je odgovorio: ''Ja sam uvijek zadovoljan kad se kažnjava izdaja''.''
Obren Blagojević: ''Sav sam se stresao!''
Rajko je na Golom otoku drugovao i sa dr Obrenom Blagojevićem, izuzetnim humanistom i intelektualcem. Pričao mu je kako ga je đed ispratio u partizane: ''Ranjak, velika je muka danas na mene. Jedan fišek može mi svijeću utulit da mi kokot više nikada ne zapjeva sa kućnog praga. (Rajko mu je bio unuk-jedinac) Ali se nema kud bez tamo. Nadam se da će te moj  hljeb sačuvati. (Đed mu je bio ugledni domaćin i poznati dočeklija). I nemoj mi nešto rđavo donijet.'' (Što je značilo – i pogini, ali sačuvaj obraz i čast). Kada je to čuo, Obren Blagojević, vidno uzbuđen, rekao je: ''Rajko, od toga bi se roman mogao napisati. Sav sam se stresao!''
Plodan saradnik Mihaila Lalića
Rajko se sa Mihailom Lalićem poznavao još i prije Drugog svjetskog rata. Tokom duge spisateljske karijere Lalić ga je konsultovao u vezi mnogih događaja i ličnosti iz svojih priča i romana. Mnoge teme Lalić je obradio zahvaljujući Rajkovim informacijama i sjećanjima. Na primjerku svoje knjige ''Zlo proljeće'' Lalić je u znak zahvalnosti u posveti napisao: ''Rajku, plodnom saradniku na pisanju mojih knjiga, Mihailo''.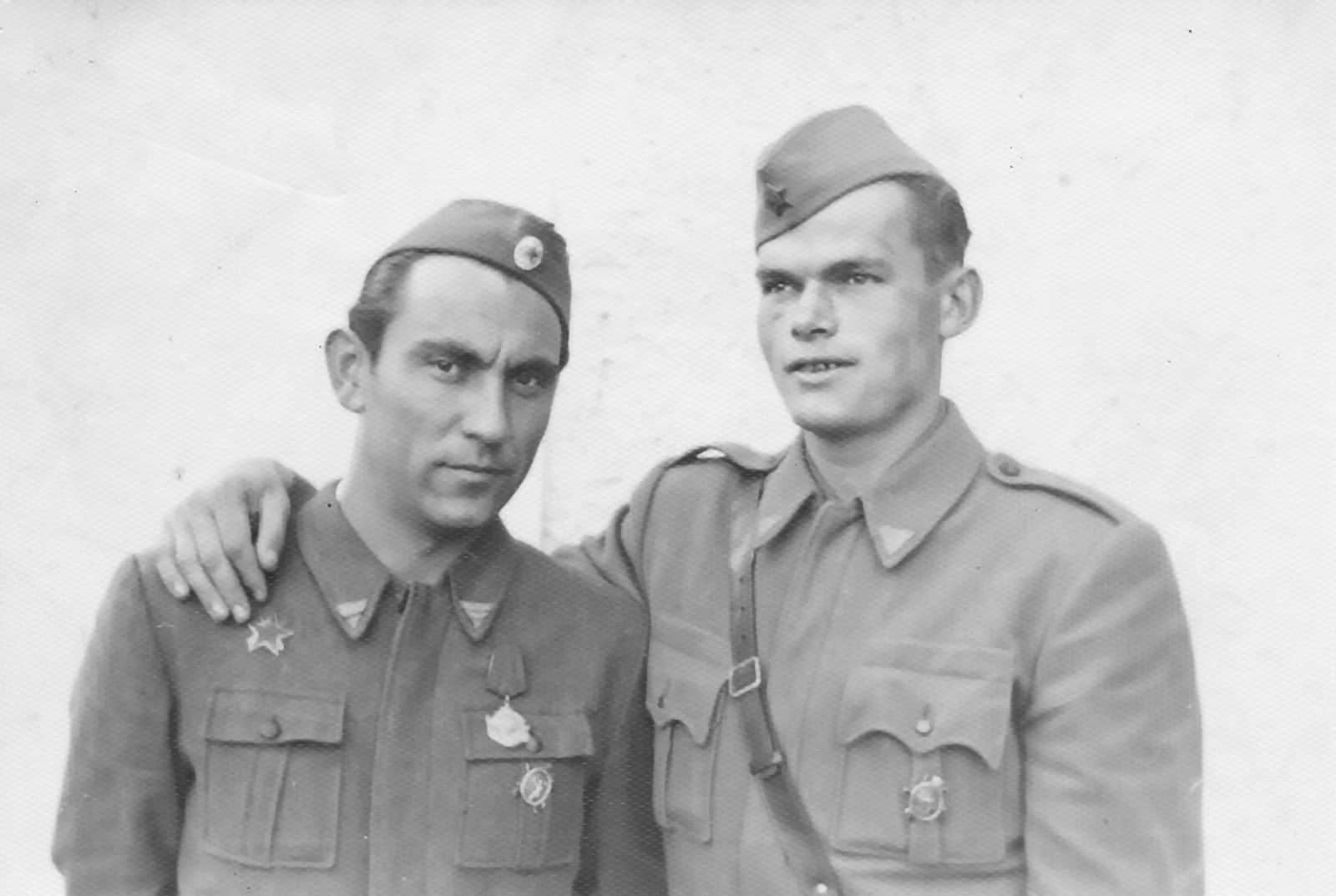 Grupa skojevaca podgoričke gimnazije koja se solidarisala sa republikanskim borcima u španskom građanskom ratu: Rajko drugi zdesna u srednjem redu, desno od njega Miro Raspopović, do njega lijevo Boro Ćetković (dok je živio u Srbiji vlasti su mu preimenovali prezime u Cvetković), Branko Šćepanović i Zarija Klikovac; donji red s lijeva na desno: Luka Petričević, Vlado Kovačević i Janko Janković; gornji red s lijeva na desno: Milorad Petrović, Radomir Popović, Raško Popović, Vlado Laković, Slavko Đurić, Novica Perović i Živko Raičević, 5. decembar 1936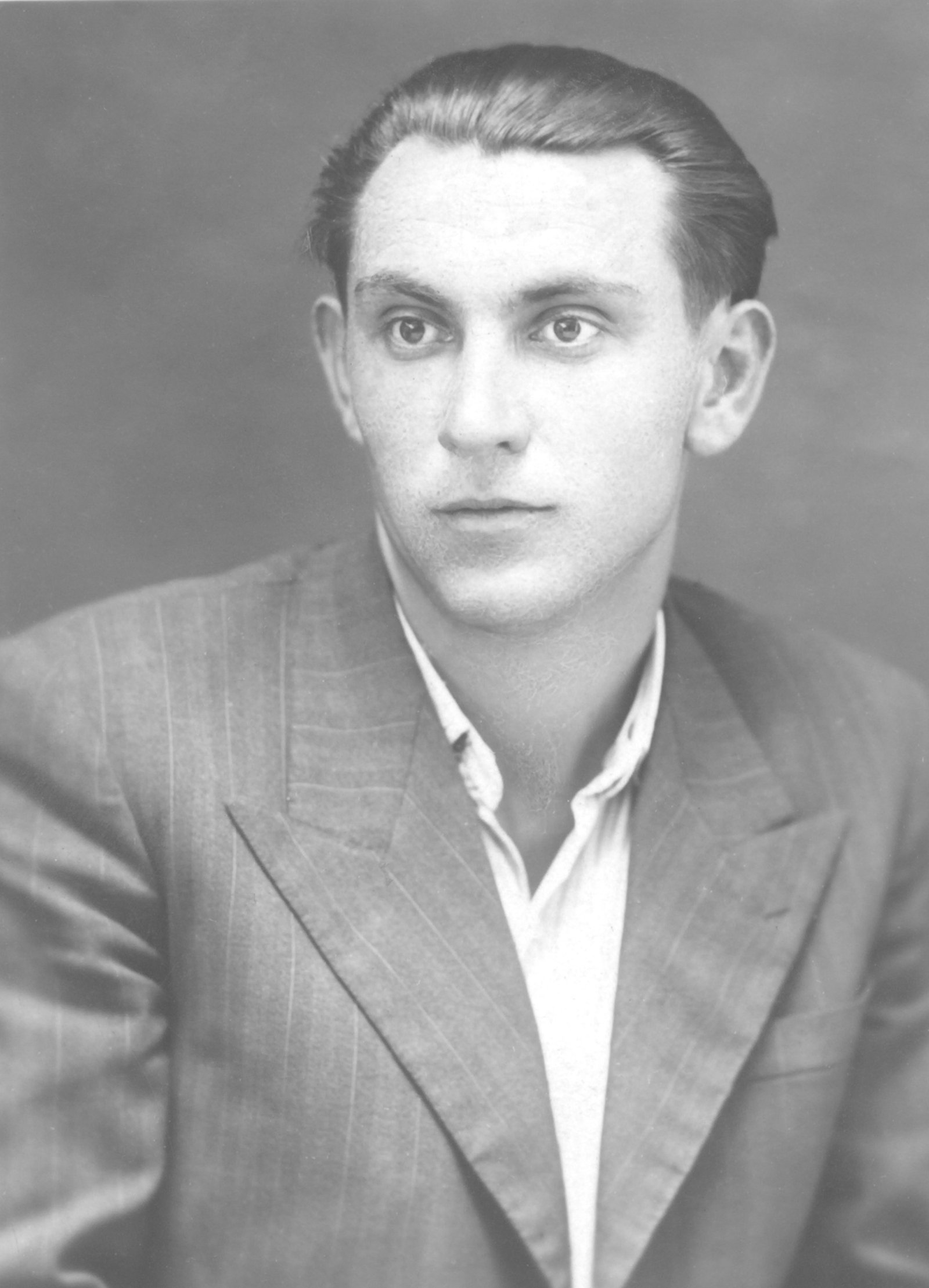 Maturant podgoričke Gimnazije, početak 1940. g.
                                                    Polaznici kursa Učiteljske škole na Cetinju 1940/41. (Rajko drugi s desna sa naočarima)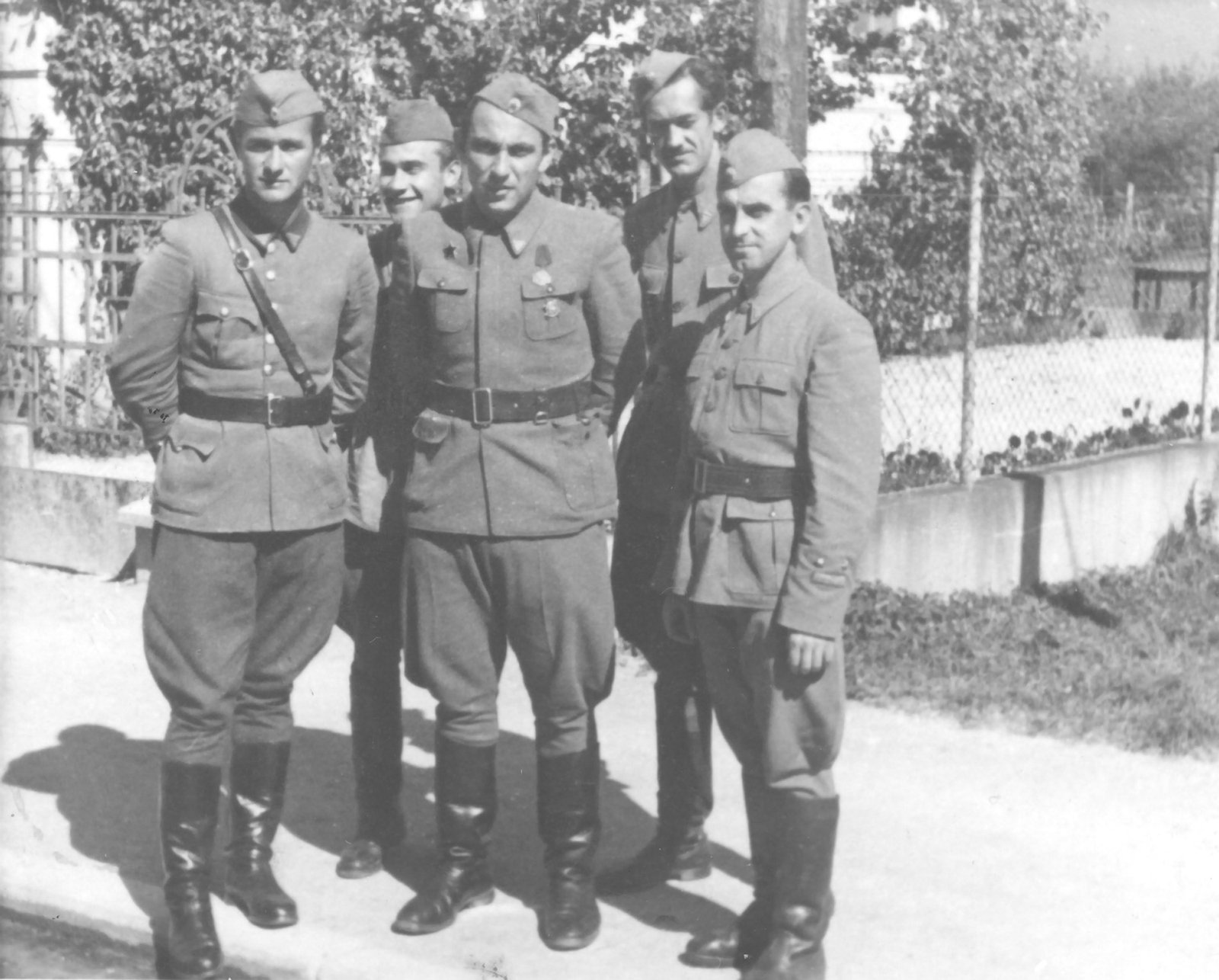 Komunisti i kandidati za člana partije iz redova polaznika kursa za učitelje školske 1940/41.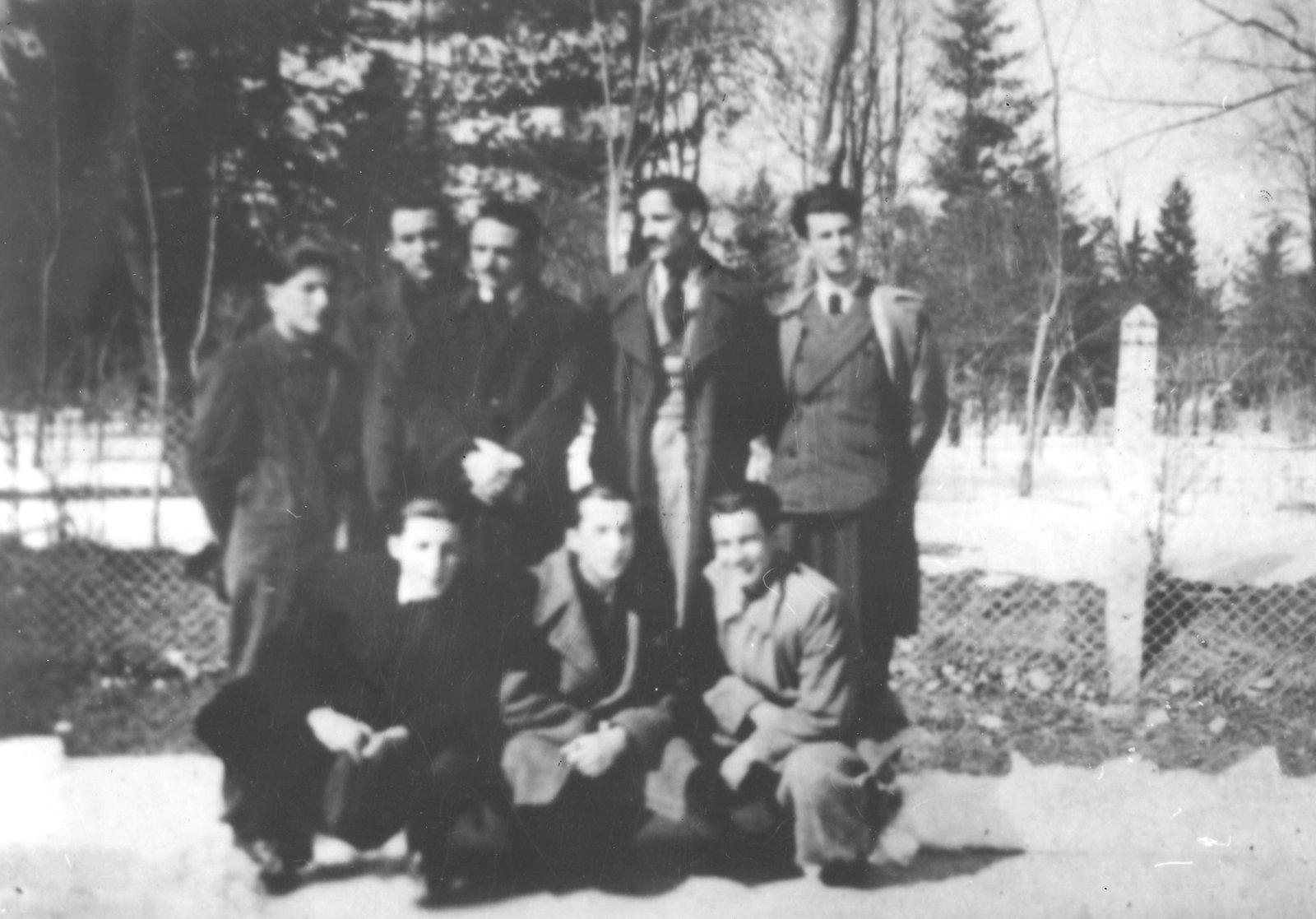 Učitelji na Cetinju 1940/41. (Rajko stoji drugi s lijeva)
                                                    Učitelji na izlazu iz Cetinja za Budvu, školska 1940/41 g.
                                                    Maturanti podgoričke Gimnazije (Rajko prvi s desna) 1940 g.
                                                  Na fudbalskoj utakmici između tima III Armije NOVJ i tima VI engleskog korpusa, Maribor, maj 1945. (Rajko označen strelicom)
                                                       Sa Božom Hinićem koji je Rajku sačuvao život, ljeto 1945, Radovljica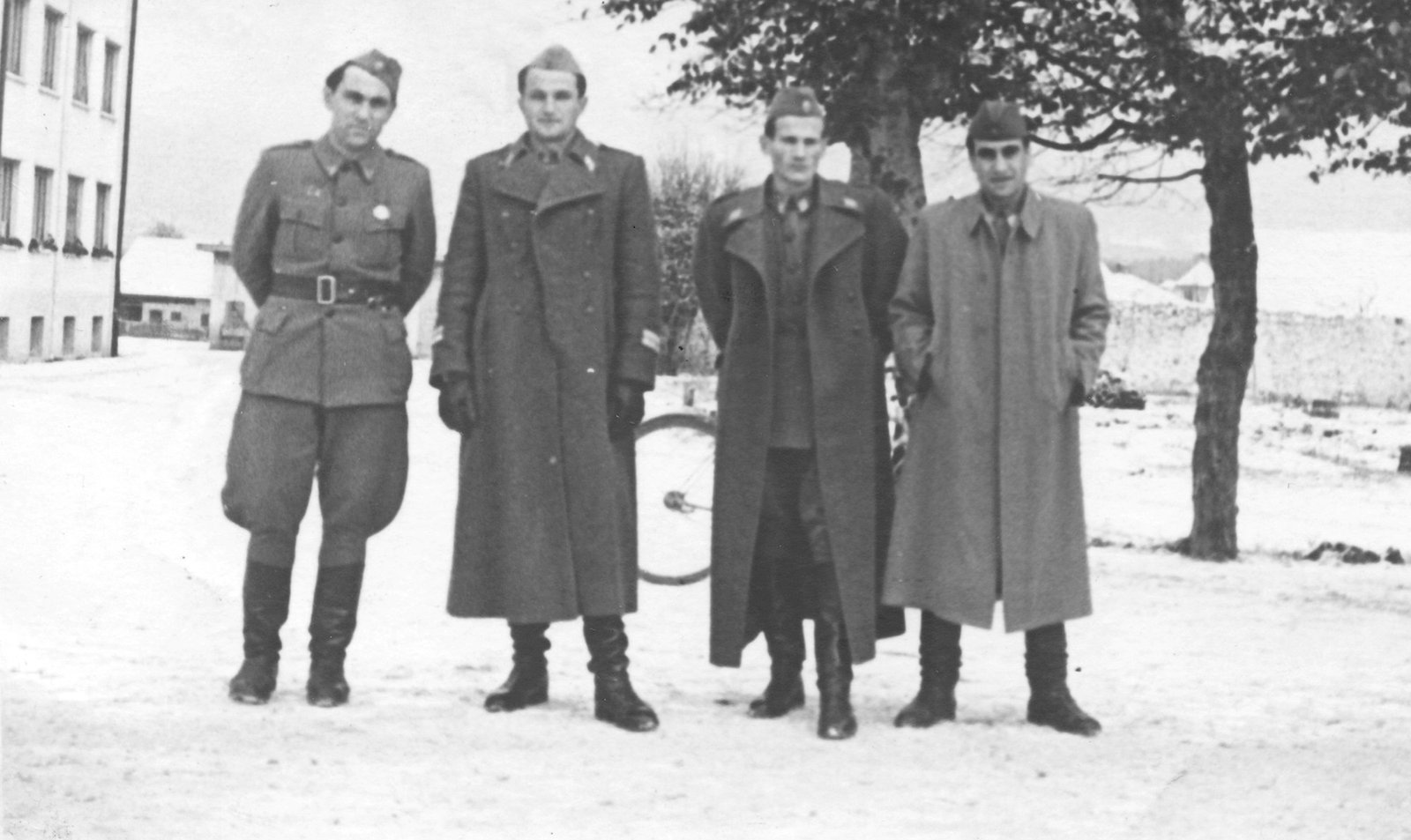 Kao šef personalnog odsjeka sa komandantom, komesarom i načelnikom štaba 17. udarne divizije u Radovljici kod Bleda, jesen 1945. (prvi s lijeva)
                                                    Brijanje, ljeto 1945. g., Kranj
                                                        Sa oficirima 17. Istočno-bosanske udarne divizije, ljeto 1945. g., Radovljica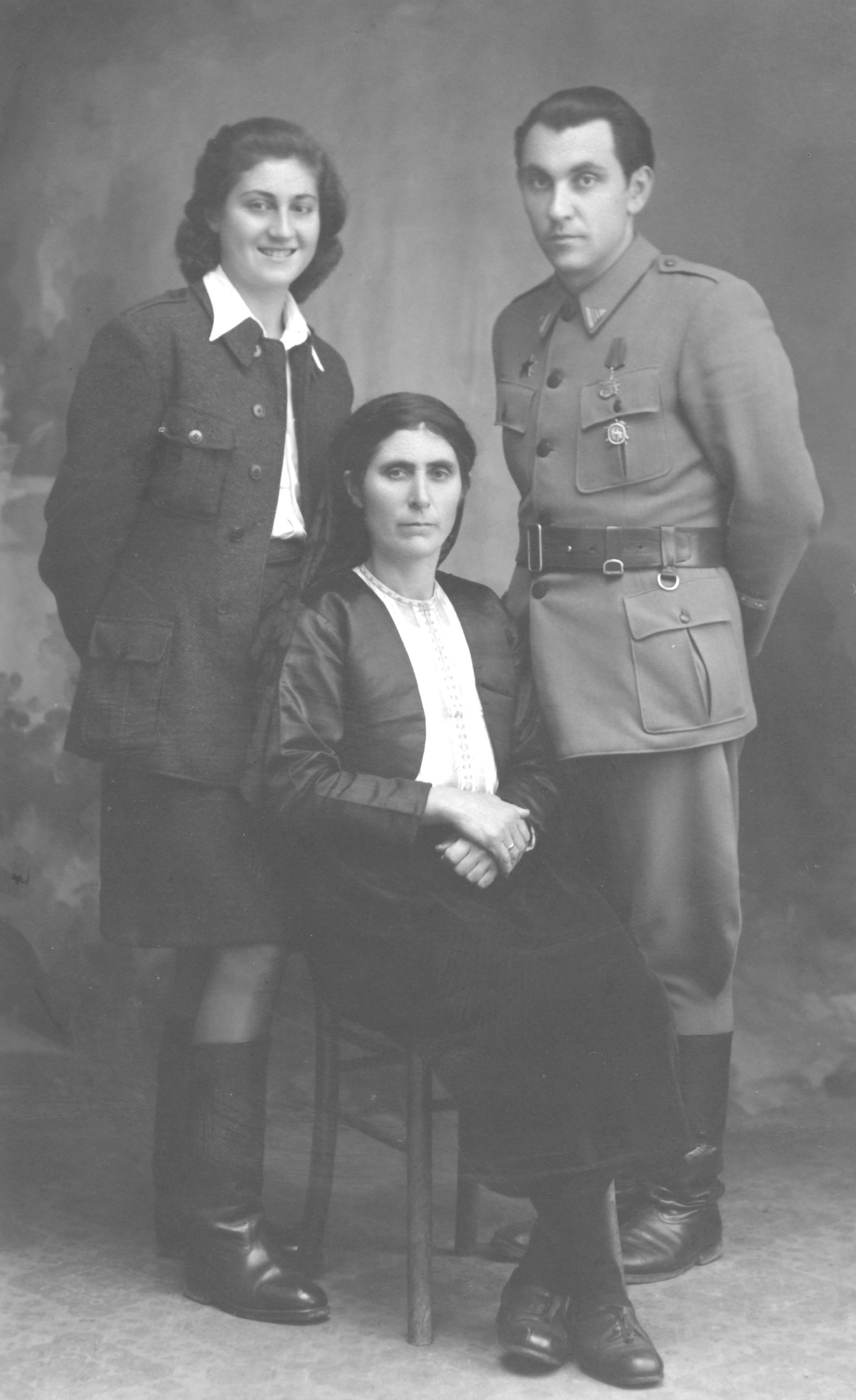 Sa suprugom Natalijom i majkom Vidrom u Radovljici, oktobar 1945.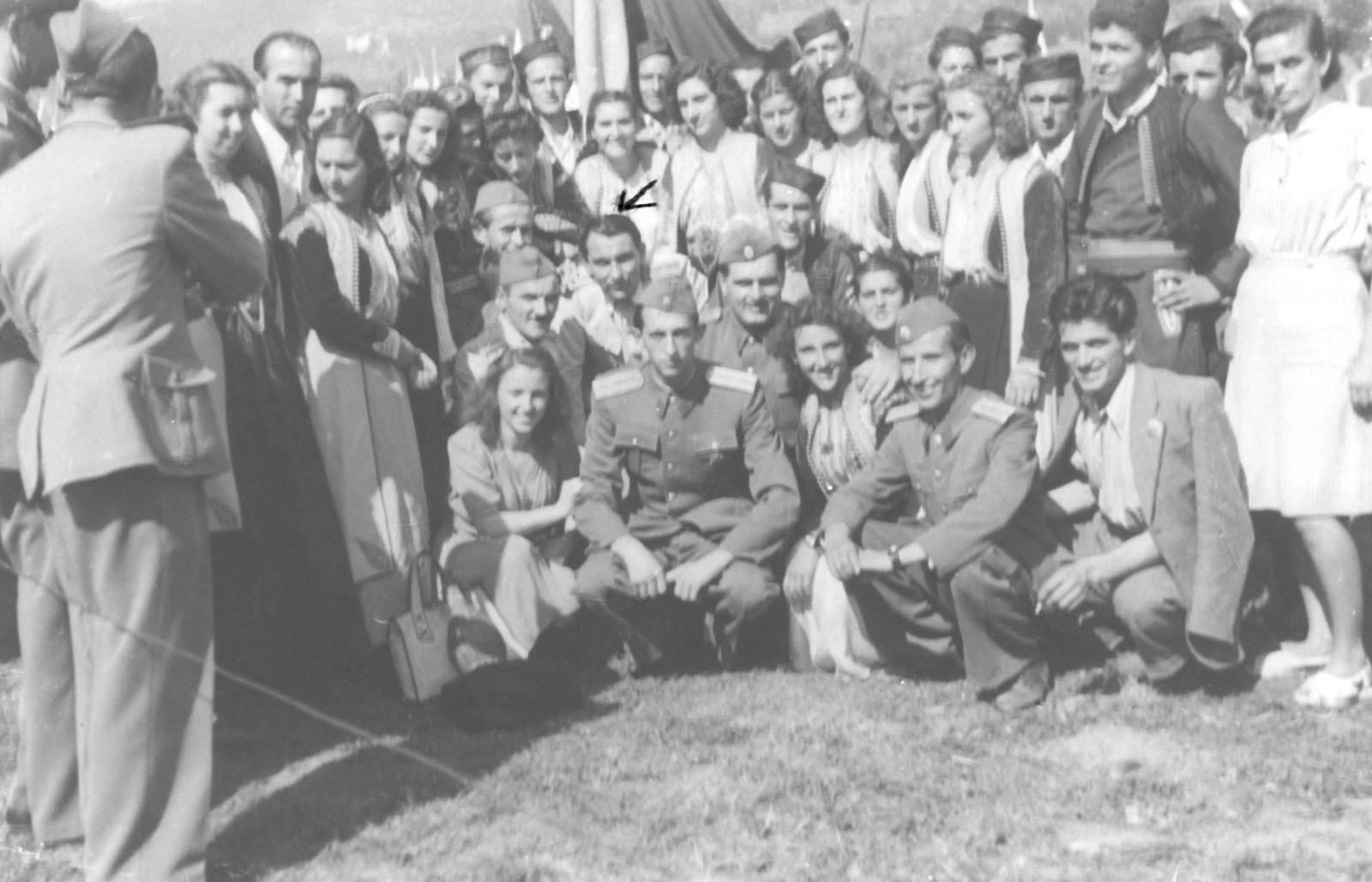 Sa Crnogorcima u nacionalnim nošnjama prilikom svečanog priključenja Slovenačkog primorja FNRJ, 20. IX. 1947 (označen strelicom)
                                               Grupa oficira Generalštaba JNA na vježbi, Beograd, 1948. (Rajko prvi s desna)
                                                Sa vaspitanicima Doma stručnih škola 1958.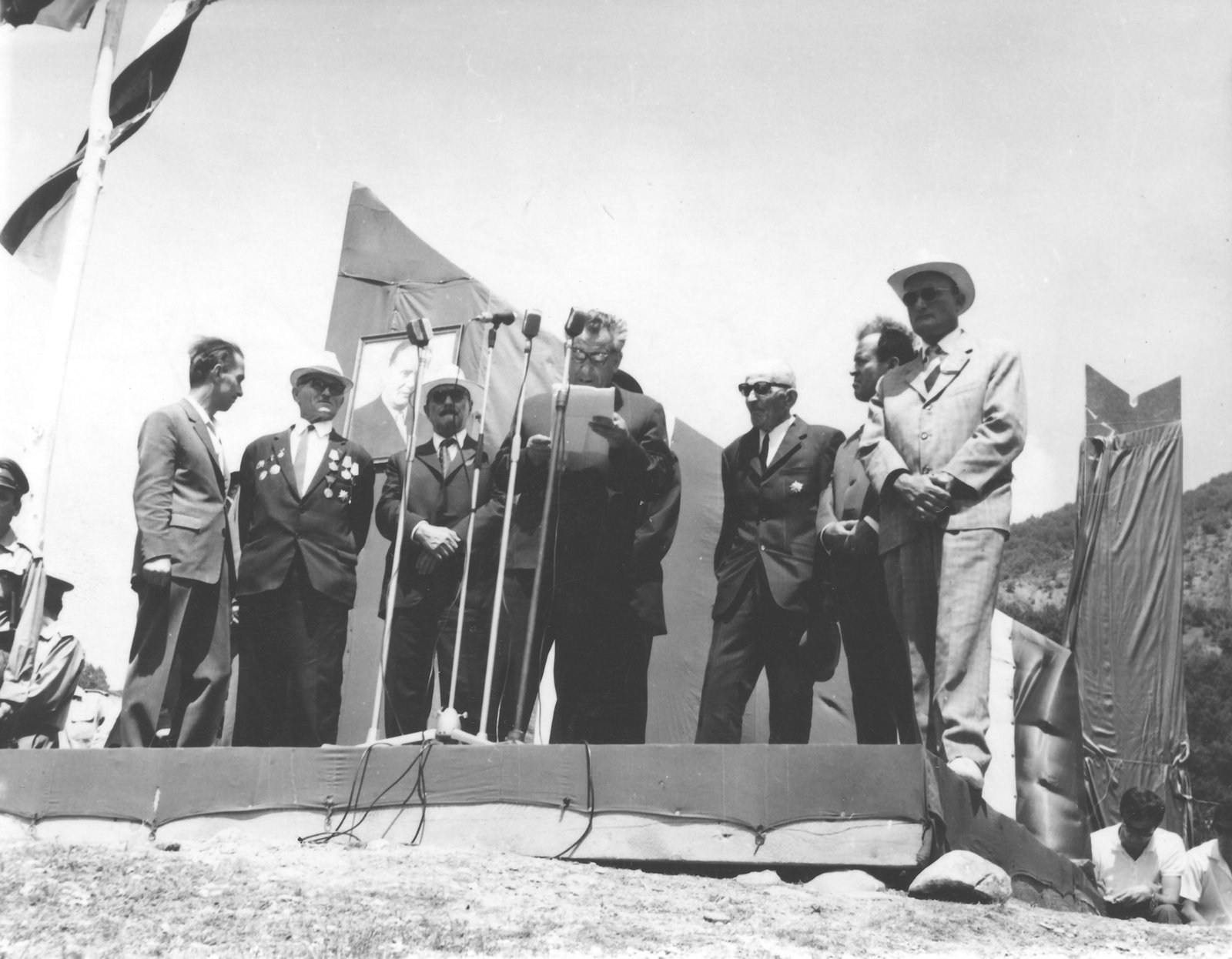 Rajko govori na otvaranju Spomenika poginulim rodoljubima u rodnom selu Brskutu 13. jula 1970. (prvi i drugi lijevo od njega Blažo Jovanović i Ljubiša Milačić, alijas Tadija Čemerkić)
                                                      Blažo Jovanović govori na otvaranju Spomenika poginulim rodoljubima u Brskutu 13. jula 1970. (u prvom redu desno od njega Rajko, a lijevo Ljubiša Milačić)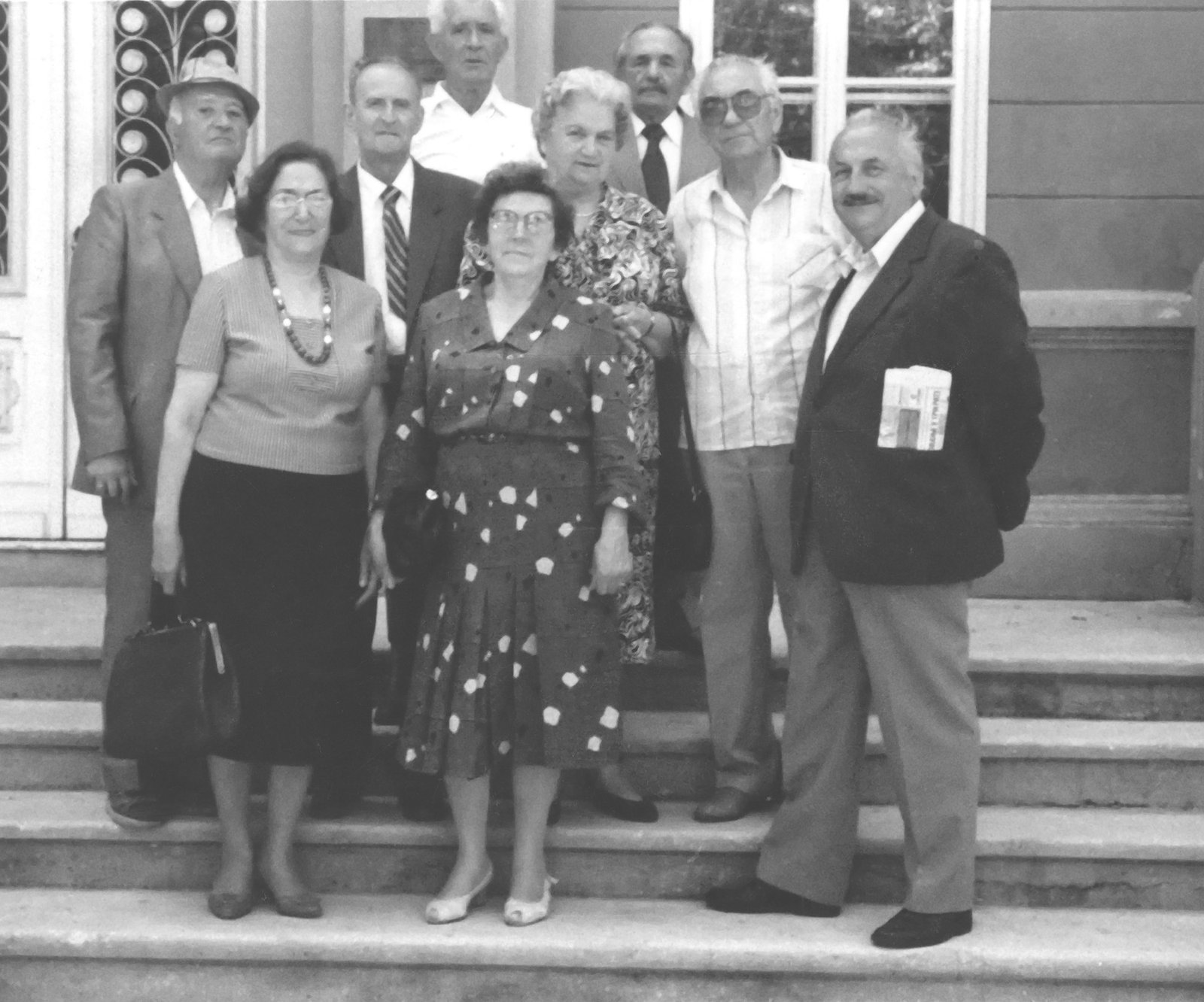 Sa proslave 50 godina od diplomiranja ispred nekadašnje zgrade Učiteljske škole a sada Likovne akademije (bivša Ruska ambasada) na Cetinju u junu 1991. (drugi s desna)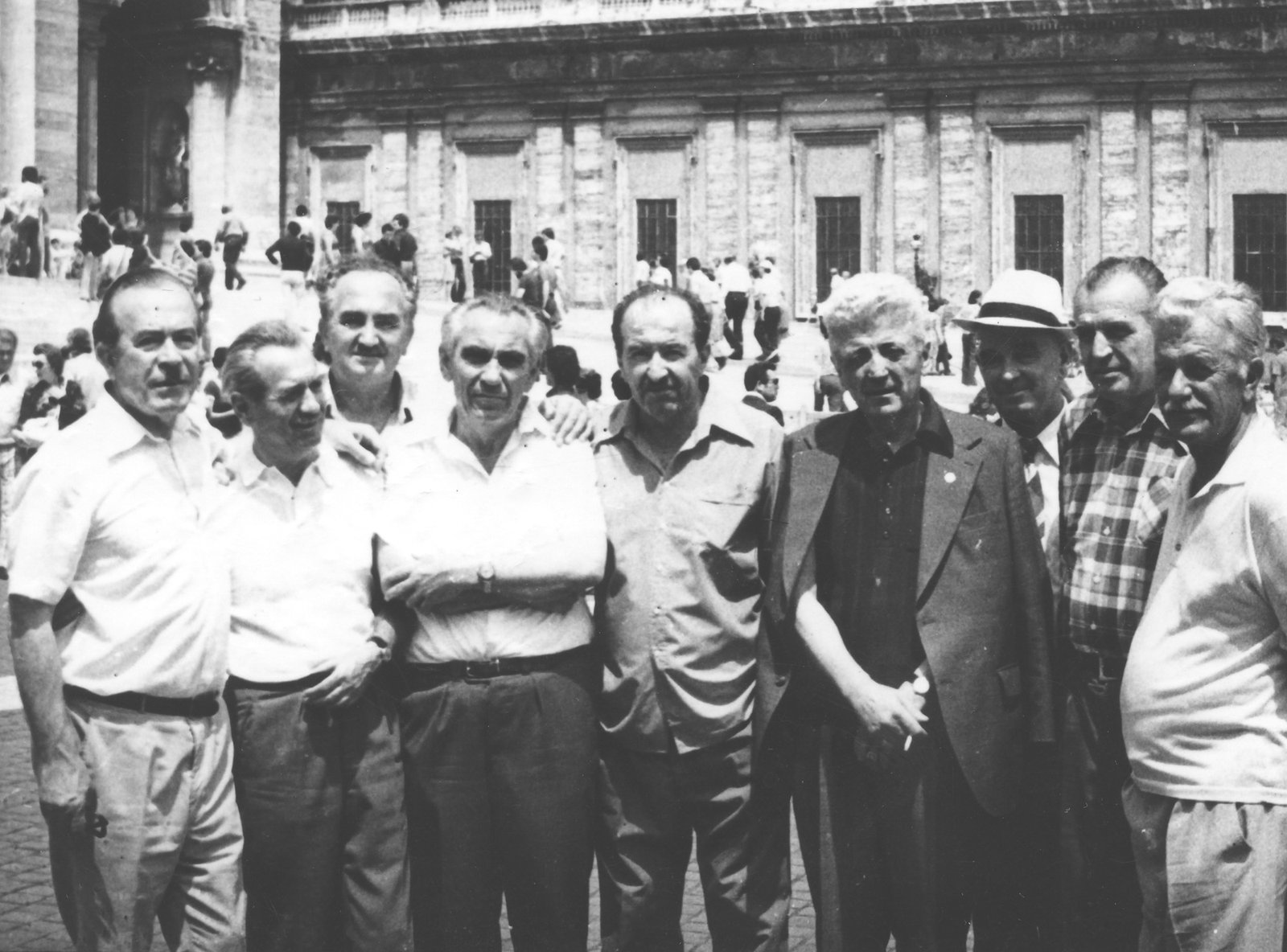 Na trgu Sv. Petra u Rimu sa boračkom delegacijom, 27. jun 1976. (četvrti s lijeva)
                                                       Trenutak kada od generalnog konzula Vanieva prima odlikovanje predsjednika Rusije Vladimira Putina, Podgorica, maj 2005. g.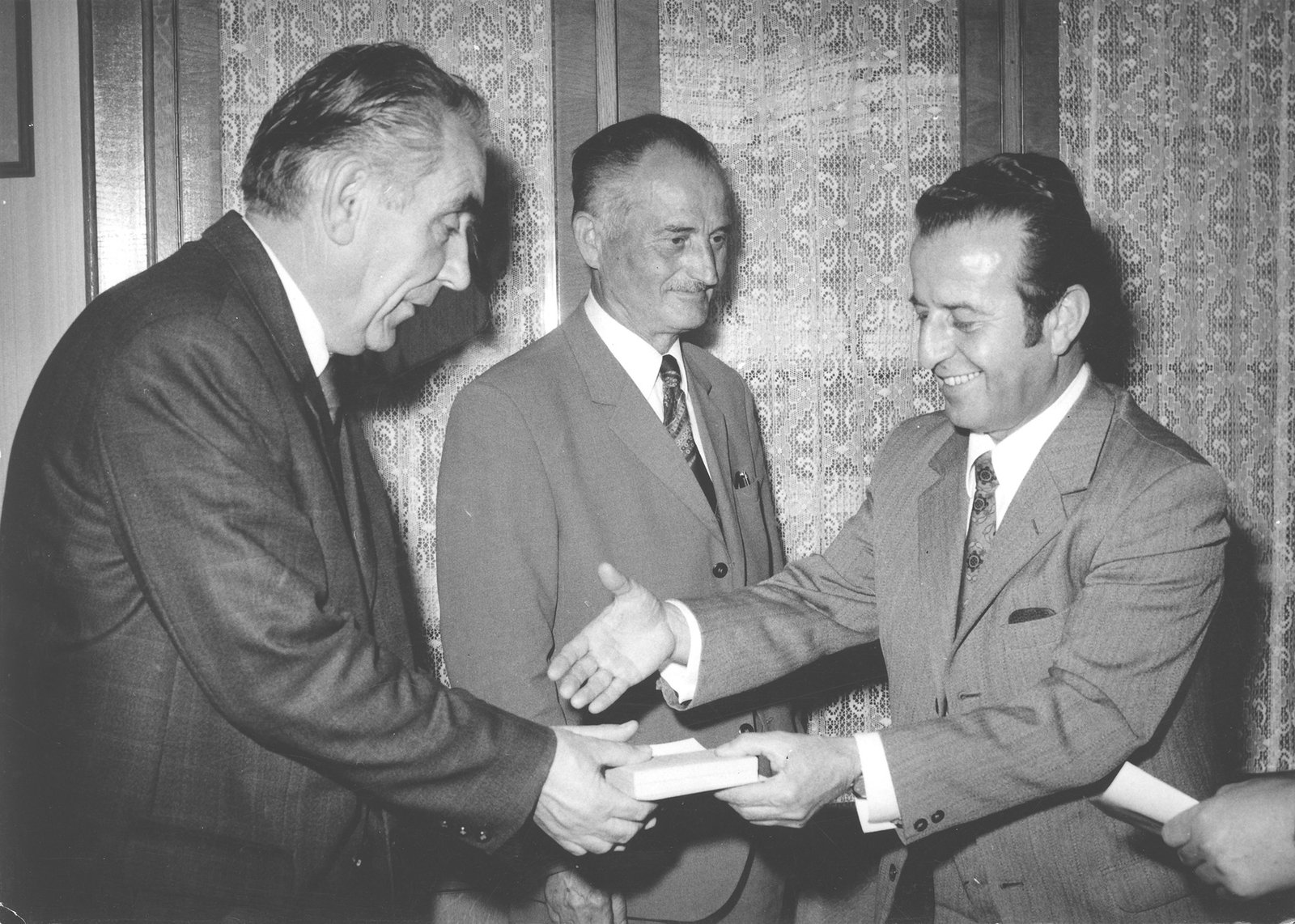 Predsjednik SUBNOR-a Crne Gore Drago Stojović uručuje Rajku odlikovanje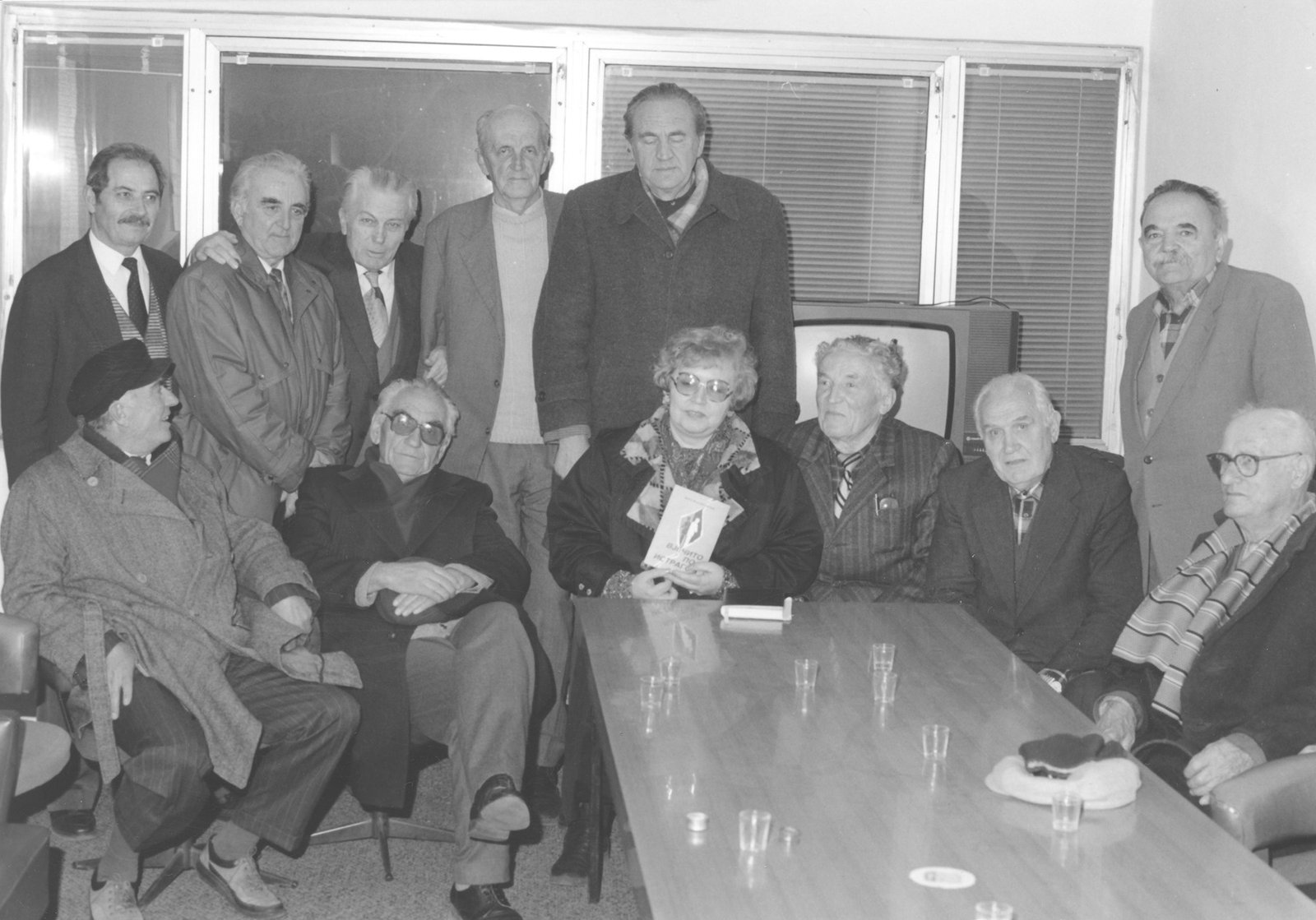 Članovi Udruženja "Goli otok" u Podgorici sa ruskom istoričarkom dr Jelenom Guskovom – 22. II. 1993. (Rajko sjedi s lijeva odmah do Guskove)