ŠAMAR ANTIFAŠISTIMA: Kalabuhov na obilježavanju godišnjice "Igmanskog marša" i na proslavi neustavnog 9. januara u organizaciji onih koji razvaljuju BiH
Kako je moguće da ambasador jedne zemlje koja se svesrdno angažovala na tome da podrži secesionističku politiku Milorada Dodika, koji radi sve što je u suprotnosti s tekovinama narodnooslobodilačke borbe i ZAVNOBiH-a, dakle, svega onoga za šta su se zalagali antifašisti, pa makar i ne bili komunisti, bude pozvan na obilježavanje godišnjice "Igmanskog marša", a da za to ne bude opravdanje to što je Rusija nastavila da obilježava antifašističke praznike za koje je zaslužan SSSR zajedno sa drugim saveznicima.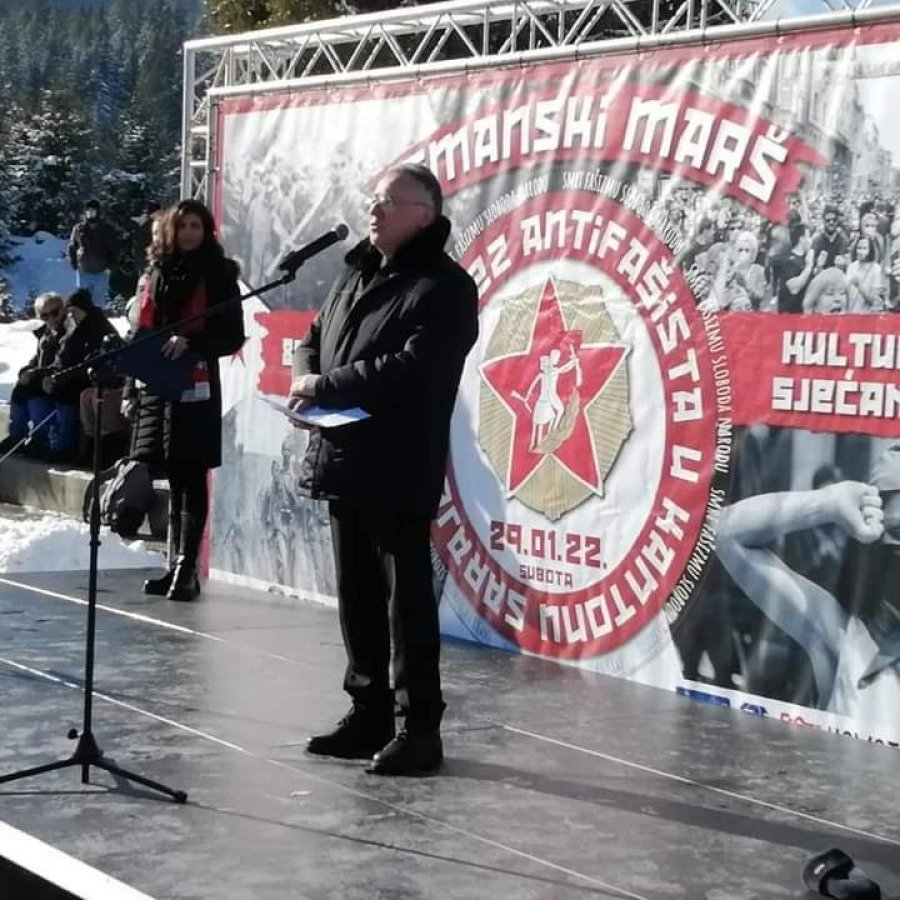 Piše: Darko Omeragić
Samo u Bosni i Hercegovini je moguće da ambasador jedne zemlje bude dobrodošao na manifestaciju koja je neustavna i koju organizuju oni koji žele rastočiti ovu zemlju i na manifestaciji kojom se obilježava godišnjica jedne od najpoznatijih i najslavnijih epizoda iz Narodno-oslobodilačke borbe (NOB-a) .
Prva manifestacija je obilježavanje neustavnog i nezakonitog dana Republike Srpske, a druga je jučerašnja 80. godišnjica "Igmanskog marša". Prvu su organizovale institucije Republike Srpske koje ne poštuju odluke Ustavnog suda BiH o neustavnosti 9. januara kao dana tog bh. entiteta i bilo je logično i prirodno da ambasador Rusije Igor Kalabuhov oduševljeno plješće Dodikovim policajcima koju su za tu priliku uvježbali pjesmicu u kojoj je jedna od strofa "Srba ima kao lista, nema više komunista". Možda Kalabuhov više nije komunista, pa mu je ova pjesmica legla, ali šta reći za 80. godišnjicu "Igmanskog marša" koju je (i) ove godine organizovao Savez udruženja antifašista i boraca narodnooslobodilačkog rata Kantona Sarajevo u koju se Kalabuhov, prema mišljenju organizatora, uklapa. Pitanje je da li će Kalabuhov biti pozvan da slavi i godišnjicu ZAVNOBiH-a 25. novembra kao Dan državnosti u BiH, odnosno da li bi došao u Predsjedništvo BiH da ga proslavi zajedno sa Željkom Komšićem i Šefikom Džaferovićem i time prizna taj datum kao dan u kojem su udareni temelji cjelovite i suverene Bosne i Hercegovine.
                                                        Kalabuhov i Dodik "rame uz rame" na obilježavanju neustavnog dana RS
                                                        Kalabuhov na Igmanu